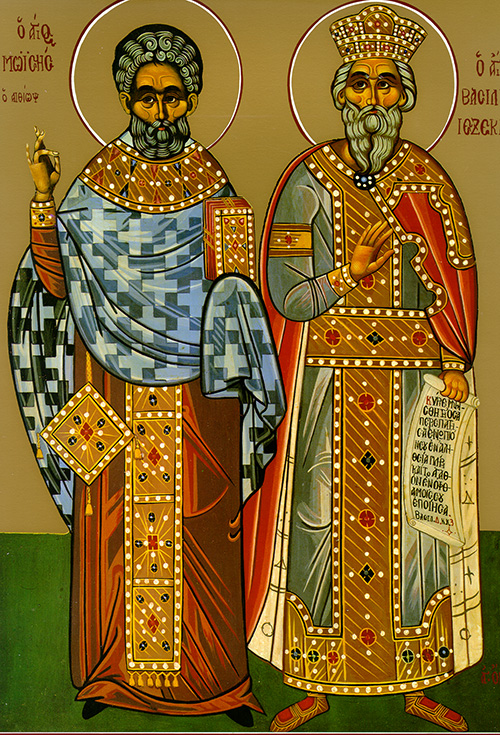 Our venerable father Moses the Ethiopian was at first the leader of a band of robbers, but he repented and became a great ascetic. He gave himself up utterly to work, prayer, vigils, and fasting. He was ordained a priest in his old age, and then founded a monastery of his own. He was martyred by looting barbarians in the year 405.
Our holy father Augustine, bishop of Hippo was born in Hippo in Africa. He was turned from paganism to Christianity by the prayers and tears of his mother, St. Monica. He was baptized by St. Ambrose of Milan, and returned to North Africa. There he was chosen as bishop of Hippo, and he spent the rest of his life in prolific teaching and writing. He served and glorified the Lord for thirty-five years as bishop of Hippo; he fell asleep in the Lord in the year 430.
Troparion – Moses
You made the wilderness your dwelling, O father Moses, the bearer of God. You became an angel in the flesh and a wonder-worker. Through fasts, vigils and prayers, you obtained from God special graces to heal the sick and to sanctify the souls of those who come to you in trust. Glory to the One who gave you strength! Glory to the One who crowned you! Glory to the One who through your intercession grants healing to all!
Troparion – Augustine
Guide to Orthodoxy, teacher of piety and holiness, luminary for the world, inspired adornment of bishops, O wise Augustine, harp of the Spirit, you enlightened all by your teachings; intercede with Christ our God to save our souls.
Kontakion – Moses
You upbraided your people and spat on the devil and brought them light brighter than the sun. You guide our souls by the light of your life and thought.
Kontakion – Augustine
We praise you with resounding voices, O heavenly trumpet of wisdom. You are the harmonious organ of theology, O most blessed father Augustine. You have given us rich knowledge of Christ's faith, and you have increased the flock in the Church. You now take your rest with the angels and still pray unceasingly for us.
Epistle
1 Corinthians 15: 1-11
Brothers and sisters, I want to remind you of the gospel I preached to you, which you received and in which you stand firm. You are being saved by it at this very moment if you hold fast to it as I preached it to you. Otherwise you have believed in vain. I handed on to you frst of all what I myself received, that Christ died for our sins in accordance with the Scriptures; that he was buried and, in accordance with the Scriptures, rose on the third day; that he was seen by Cephas, then by the Twelve. After that he was seen by five hundred brothers at once, most of whom are still alive, although some have fallen asleep. Next he was seen by me, as one born out of the normal course. I am the least of the apostles; in fact, because I persecuted the church of God, I do not even deserve the name. But by God's favor I am what I am. This favor of his to me has not proved fruitless. Indeed, I have worked harder than all the others, not on my own but through the favor of God. In any case, whether it be I or they, this is what we preach and this is what you believed.
Gospel
Matthew 19: 16-26
At that time a man came up to Jesus and said: "Teacher, what good must I do to possess everlasting life?" Jesus answered, "Why do you question me about what is good? There is One who is good. If you wish to enter into life, keep the commandments." "Which ones?" he asked. Jesus replied, "'You shall not kill'; 'You shall not commit adultery'; 'You shall not steal'; 'You shall not bear false witness'; 'Honor you father and your mother'; 'Love your neighbor as yourself.'" The young man said to Jesus, "I have kept all these; what do I need to do further?" Jesus told him, "If you wish to seek perfection, go, sell your possessions, and give to the poor. You will then have treasure in heaven. Afterwards come back and follow me." Hearing these words, the young man went away sad, for his possessions were many.
Jesus said to his disciples: "I assure you, only with difficulty will a rich man enter into the kingdom of God. I repeat what I said: it is easier for a camel to pass through a needle's eye than for a rich man to enter the kingdom of God." When the disciples heard this they were completely overwhelmed, and exclaimed, "Then who can be saved?" Jesus looked at them and said, "For man it is impossible; but for God all things are possible."
Icon courtesy of Jack Figel, Eastern Christian Publications – ecpubs.com
Saturday, August 27 –