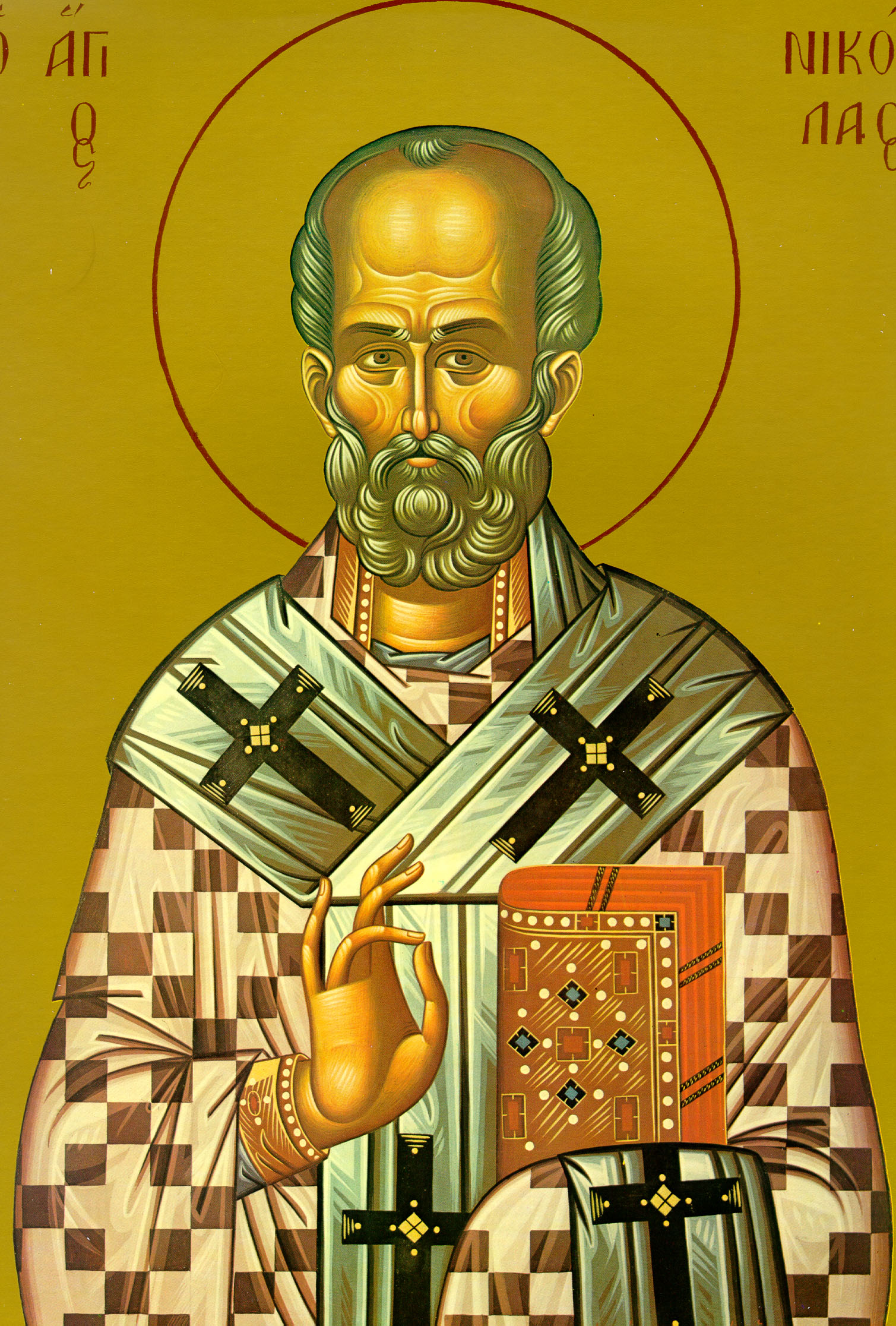 Our Holy father Nicholas, Archbishop of Myra in Lycia, the Wonder-Worker. A native of Lycia, he lived in the time of Emperors Diocletian and Maximian. After having led the monastic life for a while, he was promoted to the episcopal dignity for his exceptional and eminent virtue. Because he defended the interests of Christians and courageously preached the true religion, he was seized by the city's magistrates and thrown into prison in company with other Christians, after he was overpowered by assaults and inflicted with all kinds of tortures. When the great and pious Constantine took possession of the Roman Empire by a Providential decree, all the prisoners in fetters were released. Thus set at liberty, Saint Nicholas returned to Myra and took part in the Council of Nicaea held sometime after by Emperor Constantine in 325. He died at a very old age leaving his holy body to the faithful as a source of balm and healing. He remains as if living after his death, having received from heaven the gift of miracles. His relics are preserved in Bari, Italy. His power as a wonderworker gave birth to a marvelous legend which is the origin of traditional children's festivals in the East as well as the West.
Troparion
Your life has shown you to your flock as a rule of faith, an image of gentleness, and a teacher of moderation. You acquired greatness through humility and wealth through poverty. O father and archbishop Nicholas, intercede with Christ our God to save our souls.
Kontakion
You were renowned as a priest in Myra, O holy Nicholas; for you fulfilled the Gospel of Christ, O venerable father. You risked your life for your people and saved the innocent from death. Thereby you have been initiated into the mysteries of the grace of God.
Epistle
Hebrews 13: 17-21
Brothers and sisters: Obey your leaders and submit to them, for they keep watch over you as men who must render an account. So act that they may fulfill their task with joy, not with sorrow, for that would be harmful to you. Pray for us; we are confident that we have a good conscience, wishing, as we do, to act rightly in every respect. I especially ask your prayers that I may be restored to you very soon. May the God of peace, who brought up from the dead the great Shepherd of the sheep by the blood of the eternal covenant, Jesus our Lord, furnish you with all that is good, that you may do his will. Through Jesus Christ may he carry out in you all that is pleasing to him. To Christ be the glory forever! Amen.
Gospel
Luke 6:17-23
At that time, coming down the mountain with the twelve, Jesus stopped at a level stretch where there were many of his disciples; a large crowd of people was with them from all Judea and Jerusalem and the coast of Tyre and Sidon, people who came to hear him and be healed of this diseases. Those who were troubles with unclean spirits were cured; indeed, the whole crowd was trying to touch him because power went out from him which cured all.
Then, raising his eyes to his disciples, he said: "Blest are you poor, the reign of God is yours. Blest are you who hunger; you shall be filled. Blest are you who are weeping; you shall laugh. Blest shall you be when men hate you, and proscribe your name as evil because of the Son of Man. On the day they do so, rejoice and exult, for your reward shall be great in heaven."
Icon courtesy of Jack Figel, Eastern Christian Publications – ecpubs.com