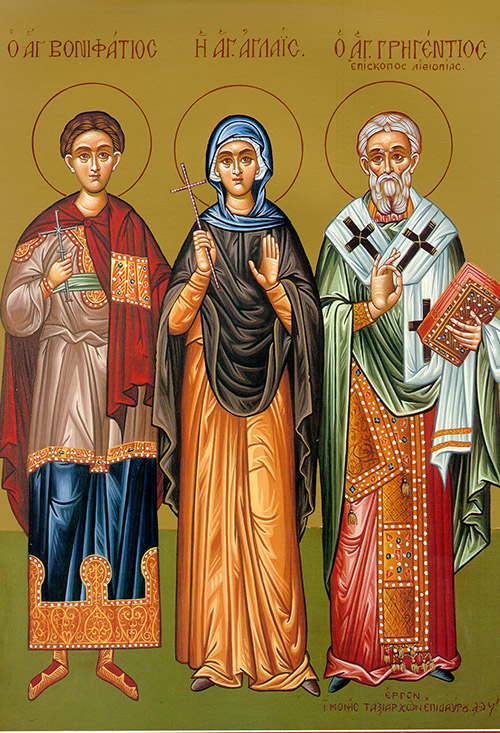 The holy martyr Boniface was a servant to a wealthy and wicked woman in Rome, and was her paramour. His mistress decided that she wanted to have some relics of a Christian martyr in her house to use as an amulet to ward off evil, and dispatched Boniface to buy what she desired. In the city of Tarsus, Boniface witnessed the death of many for the sake of Christ, and was converted. He denounced himself to the authorities and said, "I too am a Christian." He was then tortured and beheaded. Slaves took his body back to Rome, and an angel appeared to his former mistress, saying, "Take him who was once your servant, but who is now our brother—he is the guardian of your soul." She repented and built a church where Boniface's relics were buried. (290)
Troparion
Your martyr Boniface, O Lord our God, in his struggle received an incorruptible crown from You. With Your strength, he brought down the tyrants and broke the cowardly valor of demons. Through his prayers, O Christ our God, save our souls.
Kontakion
O crown-bearer and most wise Boniface, you offered yourself as a willing, immaculate sacrifice to the One Who was born of a Virgin for our sake.
Epistle
Hebrews 3: 5-11, 17-19
Brothers and sisters: Moses "was faithful in God's household" as a servant charged with the task of witnessing to what would be spoken; but Christ was faithful as the Son placed over God's house. It is we who are that house, if we hold fast to our confidence, and the hope of which we boast.
Wherefore, as the Holy Spirit says: "Today, if you should hear his voice, harden, not your hearts, as at the revolt in the day of testing in the desert, when your father's tested and tried me, and saw my works for forty years. Because of this I was angered with that generation, and I said, 'They have always been of caring heart, and have never known my ways.' Thus I swore in my anger, 'They shall never enter into my rest.'"
With whom was God angry for forty years? Was it not those who had sent, whose corpses fell in the desert? To whom but to the disobedient did he swear that they would not enter into his rest? We see, moreover, that it was their unbelief that kept them from entering.
Gospel
Mark 10: 46-52
At that time Jesus was leaving Jericho with his disciples and a large crowd, there was a blind beggar Bartimaeus sitting by the roadside. On hearing that it was Jesus of Nazareth, he began to call out, "Jesus, Son of David, have pity on me!" Many people were scolding him to make him keep quiet, but he shouted all the louder, "Son of David, have pity on me!" Then Jesus stopped and said, "Call him over." So they called the blind man over, telling him as they did so, "You have nothing to fear from him! Get up! He is calling you!" He threw aside his cloak, jumped up and came to Jesus. Jesus asked him, "What do you want me to do for you?" "Rabboni," the blind man said, "I want to see." Jesus said in reply, "Be on your way! Your faith has healed you." Immediately he received his sight and started to follow Jesus up the road.
Icon courtesy of Jack Figel, Eastern Christian Publications – ecpubs.com
Sunday, December 18 –