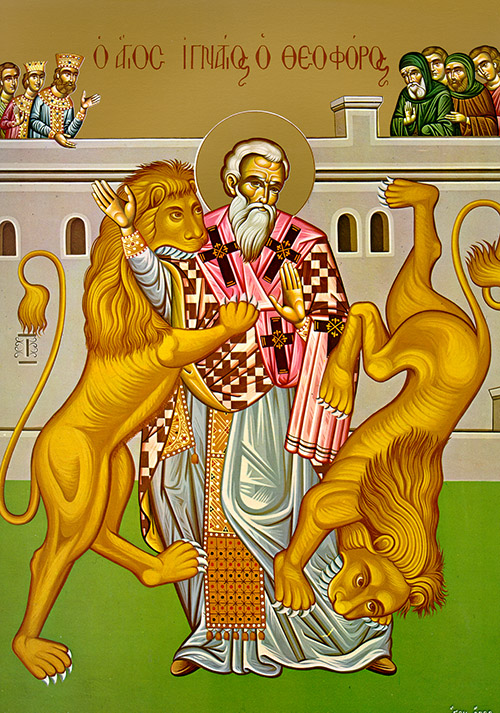 The holy martyr Ignatius the God-bearer was a bishop and a disciple of St. John the Apostle. He ruled the Church of Antioch second after St. Peter. He was condemned to the beasts under the Emperor Trajan, and was sent to Rome and there he was crowned in martyrdom in the year 107. On his trip, while under guard and experiencing their ferocity as if of leopards, he wrote seven letters to various Churches, by which he beseeched his brothers to serve God in unity with the bishops and not to keep him from being sacrificed as a victim for Christ.
Troparion
You followed the apostles' way of life and succeeded to their throne, you ascended to the vision of contemplation through your deeds, O God-bearer, facing savage beasts, fire, and sword for the sake of the Word of truth, and made the course of truth straight even at the price of your own blood. O priest-martyr Ignatius, pray to Christ God for the salvation of our souls.
Kontakion
The light-bearing day of your radiant ascetic fight proclaims beforehand to all the One who was born in a cave. For thirsting lovingly to delight in Him, you hastened to be devoured by wild beasts. For this you were called God-bearer, O All-Wise Ignatius.
Epistle
Hebrews 4: 1-13
Brothers and sisters: While the promise of entrance into [God's] rest still holds, we ought to be fearful of disobeying lest anyone of you be judged to have lost his chase of entering. We have indeed heard the good news, as they did. But the word which they heard did not profit them, for they did not receive it in faith. It is we who have believed who enter into that rest, just as God said: "Thus I swore in my anger, 'They shall never enter into my rest.'" Yet God's work was finished when he created the world, for in reference to the seventh day Scripture somewhere says, "And God rested from all his work on the seventh day"; and again, in the place we have referred to, God says, "They shall never enter into my rest." Therefore, since it remains for some to enter, and those to whom it was first announced did not because of unbelief, God once more set a day, "today," when long afterward he spoke through David the words we have quoted: "Today, if you should hear his voice, harden not your hearts." Now if Joshua had led them into the palace of rest, God would not have spoken afterward of another day. Therefore a sabbath rest still remains for the people of God. And he who enters into God's rest, rests from his own work as God did from his. Let us strive to enter into that rest, so that no one may fall, in imitation of the example of Israel's unbelief.
Indeed, God's word is living and effective, sharper than any two-edged sword. It penetrates and divides soul and spirit, joints and marrow; it judges the reflections and thoughts of the heart. Nothing is concealed from him; all lies bare and exposed to the eyes of him to whom we must render an account.
Gospel
Mark 11: 11-24
At that time Jesus entered Jerusalem and went into the temple precincts. He inspected everything there, but since it was already late in the afternoon, he went out to Bethany accompanied by the Twelve. The next day when they were leaving Bethany he felt hungry. Observing a fig tree some distance off, covered with foliage, he went over to see if he could find anything on it. When he reached it he found nothing but leaves; it was not the time for figs. Then addressing it he said, "Never again shall anyone eat of your fruit!" His disciples heard all this.
When they reached Jerusalem he entered the temple precincts and began to drive out those who were engaged in buying and selling. He overturned the money-changers' tables and the stall of the men selling doves; moreover, he would not permit anyone to carry things through the temple area.
Then he began to teach them: "Does not Scripture have it, 'My house shall be called a house of prayer for all peoples'? But you have turned it into a den of thieves." The chief priests and the scribes heard of this and began to look for a way to destroy him. They were at the same time afraid of him because the whole crowd was under the spell of his teaching. When evening drew on, Jesus and his disciples went out of the city. Early next morning, as they were walking along, they saw the fig tree withered to its roots. Peter remembered and said to him, "Rabbi, look! The fig tree you cursed has withered up." In reply Jesus told them: "Put your trust in God. I solemnly assure you, whoever says to this mountain, 'Be lifted up and thrown into the sea,' and has no inner doubts but believes that what he says will happen, shall have it done for him. I give you my word, if you are ready to believe that you will receive whatever you ask for in prayer, it shall be done for you."
Icon courtesy of Jack Figel, Eastern Christian Publications – ecpubs.com
Monday, December 19 –