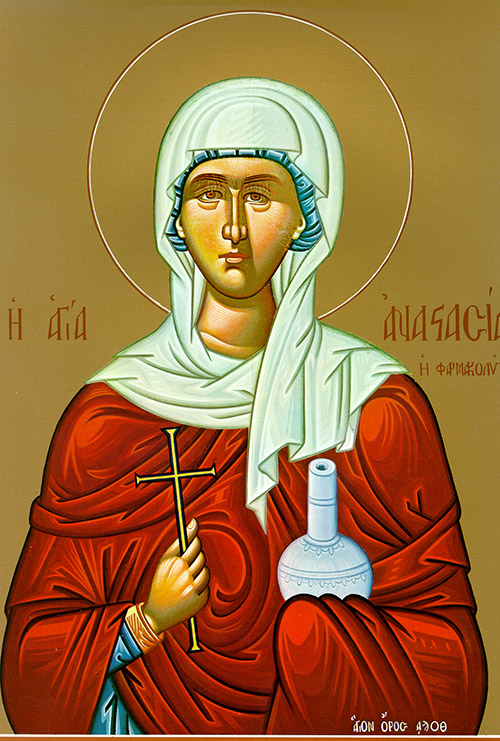 The holy great martyr Anastasia was born into a senatorial family in Rome, and she was a Christian from a tender age. Forced by her father to marry a pagan landowner, she refused to have marital relations with him. For this, her husband has her tortured and imprisoned. When her husband drowned during a business trip, she began to openly minister to Christians and to all the poor who needed help. She was arrested again, starved to death, and finally bound to a wheel over and open fire and killed. (304)
Troparion
How truthfully names are you for the Resurrection, O martyr of Christ. By enduring suffering you gained victory over the enemy for the sake of Christ your Bridegroom. Pray to Him to save our souls.
Kontakion
Those in temptations and afflictions hasten to your church, and receive honorable gifts of divine grace dwelling in you, O Anastasia, for you ever pour out healing on the world.
Epistle
Hebrews 7: 1-6
Brothers and sisters: This Melchizedek, king of Salem and priest of the Most High God, met Abraham returning from his defeat of the kings and blessed him. And Abraham apportioned to him one tenth of all his booty. His name means "king of justice"' he was also king of Salem, that is, "king of peace." Without father, mother or ancestry, without beginning of days or end of life, like the Son of God he remains a priest forever.
See the greatness of this man to whom Abraham the patriarch gave one tenth of his booty! The law provides that the priests of the tribe of Levi should receive tithes from the people, their brother Israelites, even though all of them are descendants of Abraham; but Melchizedek, who was not of their ancestry, received tithes of Abraham and blessed him who had received God's promise.
Gospel
Mark 9: 9-13
At that time Jesus and the disciples were coming down the mountain, Jesus strictly enjoined them not to tell anyone what they had seen, before the Son of Man had risen from the dead. They kept this word of his to themselves, though they continued to discuss what "rise from the dead" meant. Finally they put to him this question: "Why do the scribes claim that Elijah must come first?" Jesus told them: "Elijah will indeed come first and restore everything. Yet why does Scripture say of the Son of Man that he must suffer much and be despised? Let me assure you, Elijah has already come. They did entirely as they pleased with him, as Scriptures say of him."
Icon courtesy of Jack Figel, Eastern Christian Publications – ecpubs.com
Wednesday, December 21 –