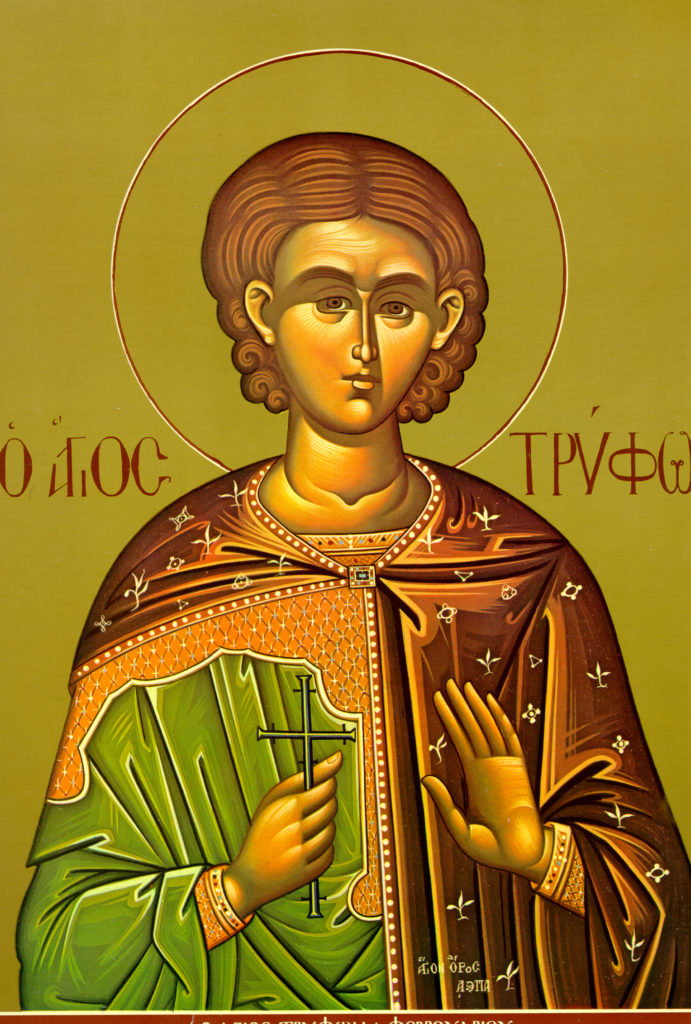 The holy martyr Tryphon was born in Phrygia, one of the districts of Asia Minor. From his early years, the Lord granted him the power to cast out demons and to heal various maladies. He once saved the inhabitants of his native city of Lampsacus from starvation. He was condemned to death by beheading with a sword. The holy martyr prayed before his execution, thanking God for strengthening him in his sufferings. Just as the soldiers raised the sword over the head of the holy martyr, he surrendered his soul to the hands of the Lord. This occurred in the city of Nicea in the year 250.
Troparion
Your martyr Tryphon, O Lord our God, in his struggle received an incorruptible crown from You. With Your strength, he brought down the tyrants and broke the cowardly valor of demons. Through his prayers, O Christ our God, save our souls.
Kontakion
You are worthy of all praise, O Tryphon, for through the power of the Holy Trinity, you wiped out the might of pagan gods and increased in honor before God. Unconquered, you vanquished your persecutors through the power of Christ the Savior, deserving the crown of martyrdom and God-given grace of healing the sick.
Readings of the saint
Epistle
Romans 8:28-39
Brothers and sisters: We know that God makes all things work together for the good of those who love God and are called according to his decree. Those whom he foreknew he predestined to share the image of his Son, that the Son might be the first-born of many brothers. Those he predestined he likewise called; those he called he also justified; and those he justified he in turn glorified. What shall we say after that? If God is for us, who can be against us? Is it possible that he who did not spare his own Son but handed him over for the sake of us all will not grant us all things besides? Who shall bring a charge against God's chosen ones? God, who justifies? Who shall condemn them? Christ Jesus, who died or rather was raised up, who is at the right hand of God and who intercedes for us?
Who will separate us from the love of Christ? Trial, or distress, or persecution, or hunger, or nakedness, or danger, or the sword? As Scripture says: "For your sake we are being slain all the day long; we are looked upon as sheep to be slaughtered." Yet in all this we are more than conquerors because of him who has loved us. For I am certain that neither death nor life, neither angels nor principalities, neither the present nor the future, nor powers, neither height nor depth nor any other creature, will be able to separate us from the love of God that comes to us in Christ Jesus our Lord.
Gospel
Luke 10: 19-21
At that time the Lord said: "Behold, I have given you the power to 'tread upon serpents' and scorpions and upon the full force of the enemy and nothing will harm you. Nevertheless, do not rejoice because the spirits are subject to you, but rejoice because your names are written in heaven."
At that very moment he rejoiced in the Holy Spirit and said, "I give praise, Father, Lord of heaven and earth, for although you have hidden these things from the wise and the learned you have revealed them to the childlike. Yes Father, such has been your gracious will."
Readings for the day
Epistle
1 Peter 3: 10-22
Dearly beloved: [Scripture says] "He who cares for life and wants to see prosperous days must keep his tongue from evil and his lips from uttering deceit. He must turn from evil and do good, seek peace and follow after it, because the Lord has eyes for the just and ears for their cry; but against evildoers the Lord sets his face."
Who indeed can harm you if you are committed deeply to doing what is right? Even if you should have to suffer for justice' sake, happy will you be. [Again, Scripture says] "Fear not and do not stand in awe of what this people fears." Venerate the Lord, that is, Christ, in your hearts. Should anyone ask you the reason for this hope of yours, be ever ready to reply, but speak gently and respectfully. Keep your conscience clear so that, whenever you are defamed, those who libel your way of life in Christ may be shamed. If it should be God's will that you suffer, it is better to do so for good deeds than for evil ones.
The reason why Christ died for sins once and for all, the just man for the sake of the unjust, was that he might lead you to God. He was put to death insofar as fleshly existence goes, but was given life in the realm of the spirit. It was in the spirit also that he went to preach to the spirits in prison. They had disobeyed as long ago as Noah's day, while God patiently waited until the ark was built. At that time, a few persons, eight in all, escaped in the ark through the water. You are now saved by a baptism bath which corresponds to this exactly. This baptism is no removal of physical stain, but the pledge to God of an irreproachable conscience through the resurrection of Jesus Christ. He went to heaven and is at God's right hand, with angelic rulers and powers subjected to him.
Gospel
Mark 12: 18-27
At that time some Sadducees who hold there is no resurrection came to Jesus with a question: "Teacher, we were left this in writing by Moses: 'If anyone's brother dies leaving a wife but no child, his brother must take the wife and produce offspring for his brother.' There were seven brothers. The eldest took a wife and died, leaving no children. The second took the woman, and he too died childless. The same happened to the third; in fact none of the seven left any children behind. Last of all the woman died. At the resurrection, when all come back to life, whose wife will she be? All seven married her." Jesus said: "You are badly misled, because you fail to understand the Scriptures or the power of God. When people rise from the dead, they neither marry nor are given in marriage but live like angels in heaven. As to the raising of the dead, have you not read in the book of Moses, in the passage about the burning bush, how God told him, 'I am the God of Abraham, the God of Isaac, the God of Jacob'? He is the God of the living not of the dead. You are very much mistaken."
Icon courtesy of Jack Figel, Eastern Christian Publications – ecpubs.com
Monday, January 31 –