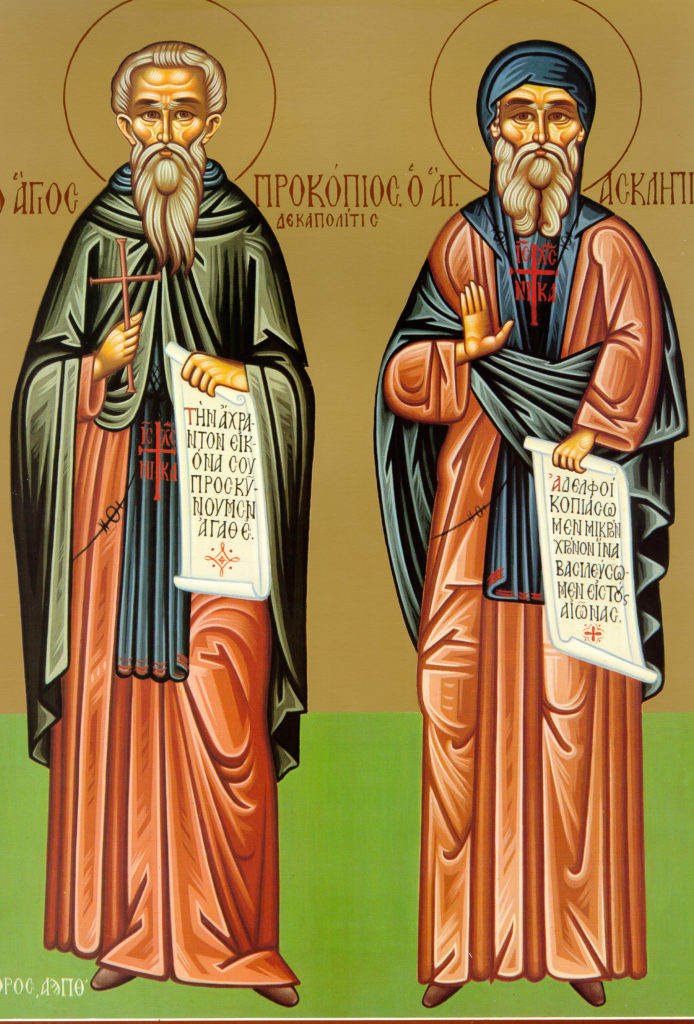 St. Procopius the Decapolite lived during the eighth century in the region of Decapolis, to the east of Lake Galilee. There he labored for his salvation, struggling in asceticism. St. Procopius, his fellow ascetic St. Basil, and others zealous for holy Orthodoxy rose up against the Iconoclast heresy of those times. By order of the emperor Leo the Isaurian, St. Procopius was arrested, subjected to a fierce scourging and thrown into prison. Here he languished together with St. Basil until the death of the oppressive emperor, after which the holy confessors were set free. St. Procopius lived the rest of his life in peace, guiding many on the way of virtue and salvation.
Troparion
Your abundant tears made the wilderness bloom, and your suffering made your labors fruitful a hundredfold; you became a shining torch over the world. O venerable father Procopius, pray to Christ our God that He may save our souls.
Kontaktion
Today the church acknowledges you as a star before dawn, dispelling the darkness of error. Therefore, she honors you, O glorious Procopius, as one who contemplates heaven.
Epistle
Romans 13:11- 14:4
Brothers and sisters: It is now the hour for you to wake up from sleep, for our salvation is closer than when we first accepted the faith. The night is far spent; the day draws near. Let us cast off deeds of darkness and put on the armor of light. Let us live honorably as in daylight; not in carousing and drunkenness, not in sexual excess and lust, not in quarreling and jealousy. Rather, put on the Lord Jesus Christ and make no provision for the desires of the flesh.
Extend a kind welcome to those who are weak in faith. Do not enter into disputes with them. A man of sound faith knows he can eat anything, while one who is weak in faith eats only vegetables. The man who will eat anything must not ridicule him who abstains from certain foods; the man who abstains must not sit in judgment on him who eats. After all, God himself has made him welcome. Who are you to pass judgment on another's servant? His master alone can judge whether he stands or falls. And stand he will, for the Lord is able to make him stand.
Gospel
Matthew 6: 14-21
The Lord said, "If you forgive the faults of others, your heavenly Father will forgive you yours. If you do not forgive others, neither will your Father forgive you.
"When you fast, you are not to look glum as the hypocrites do. They change the appearance of their faces so that others may see they are fasting. I assure you, they are already repaid. When you fast, see to it that you groom your hair and wash your face. In that way no one can see you are fasting but your Father who is hidden; and your Father who sees what is hidden will repay you.
"Do not lay up yourselves an earthly treasure. Moths and rust corrode; thieves break in and steal. Make it your practice instead to store up heavenly treasure, which neither moths nor rust corrode nor thieves break in and steal. Remember, where your treasure is, there your heart is also."
Icon courtesy of Jack Figel, Eastern Christian Publications – ecpubs.co
Saturday, February 26 –