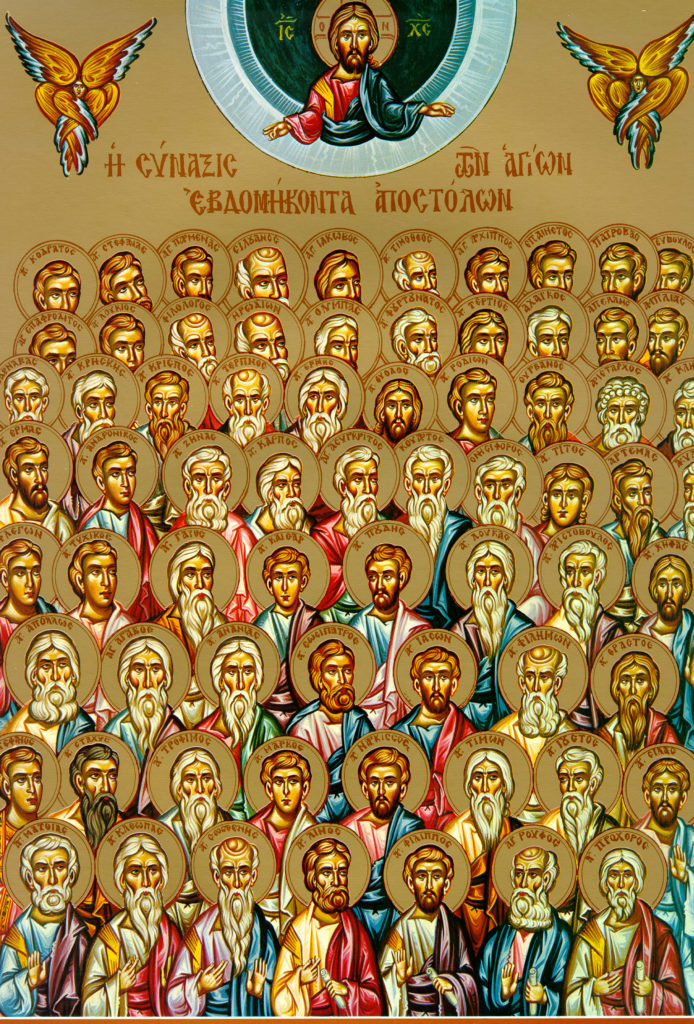 Synaxis of the Holy 70 Apostles, whose names were recorded by St. Dorotheus. In addition to the Twelve Apostles, our Lord chose seventy other apostles and sent them out to preach (cf. Luke 10: 1-5)
Our Venerable Father Theoctistus, Hegumen at Cuomo in Sicily founded a monastery in the city of Kucuma on the island of Sicily, where he became hegumen. At his monastery lived Greek monks, who had fled persecution by iconoclasts. (800)
Troparion – Apostles
O holy apostles, intercede with the merciful God that he may grant our souls forgiveness of our sins.
Troparion – Theoctistus
In you, O father, the divine image was strictly preserved; taking up your cross, you followed Christ. You taught us by example how to spurn the flesh, for it passes away, and how to care for the soul, which is immortal. Therefore, O venerable Theoctistus, your soul rejoices with the angels.
Kontakion – Apostles
Come, you faithful people, let us praise the seventy disciples of Christ with heavenly hymns. Through them we have come to adore the Holy Trinity, and they are still a light of faith for us.
Kontakion – Theoctistus
You gained your merit by feeding the sheep of the Lord by your words of exhortation in an unfeeling land. You filled it with zeal and presented it to the Savior. Now that you have passed over to Him , you have received a reward worthy of your troubles. Glory to Him who strengthened you! Glory to Him who crowned you! Glory to Him who heals us through you!
Epistle
James 1: 1-18
To the twelve tribes in the dispersion, James, a servant of God and of the Lord Jesus Christ, sends greeting.
Brothers and sisters, count it pure joy when you are involved in every sort of trial. Realize that when your faith is tested this makes for endurance. Let endurance come to its perfection so that you may be fully mature and lacking in nothing.
If any of you is without wisdom, let him ask it from the God who gives generously and ungrudgingly to all, and it will be given him. Yet he must ask in faith, never doubting, for the doubter is like the surf tossed and driven by the wind. A man of the sort, devious and erratic in all that he does, must not expect to receive anything from the Lord.
Let's a brother in humble circumstances take pride in his eminence and the rich man be proud of his loveliness, for he will disappear "like the flower of the field." When the sun comes up with its scorching heat it parches the Meadow, the field flowers droop, and with that the Meadows loveliness is gone. Just so will the rich man wither away amid his many projects.
Happy the man who holds out to the end through trial! Once he has been proved, he will receive the crown of life the Lord has promised to those who love him. No one who is tempted is free to say, "I am being tempted by God." Surely God, who is beyond the grasp of evil, temps no one. Rather the tug and lore of his own passion tempt every man. Once passion has conceived, it gives birth to sin, and once it reaches maturity it begets death.
Make no mistake about this, my dear brothers and sisters. Every worthwhile gift, every genuine benefit comes from above, descending from the father of heavenly luminaries, who cannot change and who has never shadowed over. He wills to bring us to birth with a word spoken in truth so that we may be a kind of first fruits of his creatures.
Gospel
Mark 11: 22-25
The Lord said to his disciples, "Put your trust in God. I solemnly assure you, whoever says to this mountain, 'Be lifted up and thrown into the sea,' and has no inner doubts but believes that what he says will happen, shall have it done for him. I give you my word, if you are ready to believe that you will receive whatever you ask for in prayer, it shall be done for you. When you stand to pray, forgive anyone against whom you have a grievance so that your heavenly Father may in turn forgive you your faults."
Icon courtesy of Jack Figel, Eastern Christian Publications – ecpubs.com
Tuesday, January 3 –