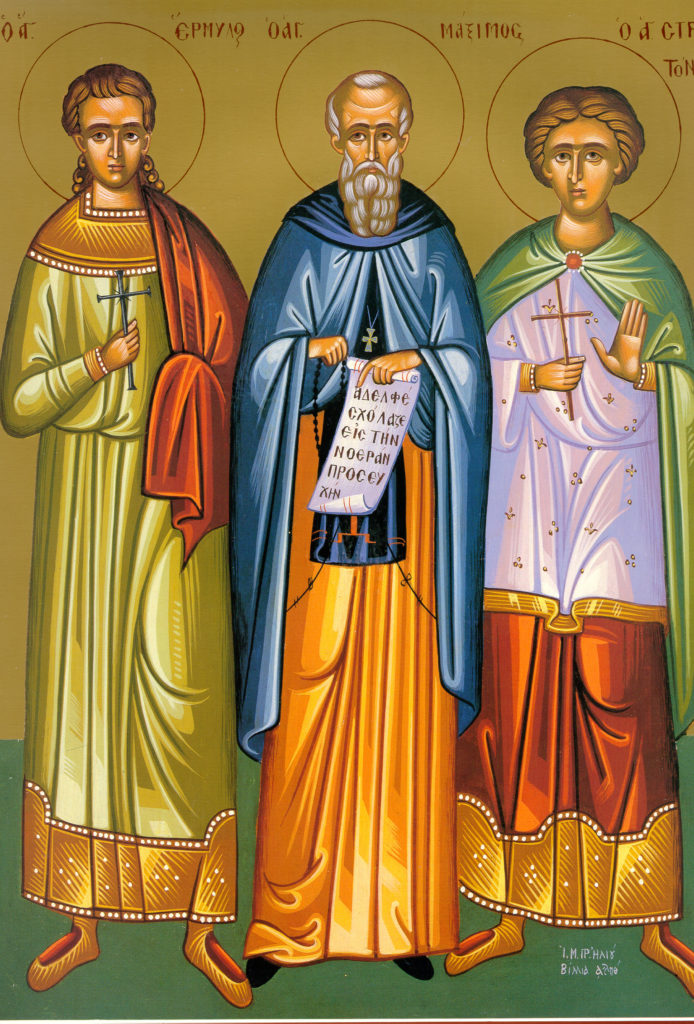 The Emperor Licinius raised a great persecution of Christians. St. Hermolaus, a Christian and a deacon in the Church, was arrested and brought to trial. When Hermolaus was informed that he was being led away to be tortured, he greatly rejoiced. In vain did the emperor threaten him. Hermolaus openly confessed his faith in Christ, and responded to all the threats of the emperor saying: The Lord is with me; I fear not; What can man do against me? (psalm 118:6). Following excruciating tortures, Hermolaus was thrown into a dungeon. The guard was Strantonicus, a secret Christian, who sympathized with the suffering of Hermolaus with all his heart. When it was reported to the emperor that Stratonicus was also a Christian, the emperor ordered that both of them be drowned in the Danube River. Then the executioners tied Hermolaus and Stratonicus in a net, and both were drowned. Three days later, their bodies washed ashore. Christians discovered their bodies and buried them about eighteen miles from Belgrade in the year 315.
Troparion
Your martyrs, O Lord our God, in their struggles received incorruptible crowns from You. With Your strength, they brought down the tyrants and broke the cowardly valor of demons.
Through their prayers, O Christ our God, save our souls.
Kontakion
O martyrs, you both met a blessed end in water and drowned the devil by the grace of God. You have received crowns of triumph for this and have been admitted to angelic choirs. Now remember those who honor you.
Readings for the fathers
Epistle
Romans 8:28-39
Brothers & sisters: We know that God makes all things work together for the good of those who love God and are called according to his decree. Those whom he foreknew he predestined to share the image of his Son, that the Son might be the first-born of many brothers. Those he predestined he likewise called; those he called he also justified; and those he justified he in turn glorified. What shall we say after that? If God is for us, who can be against us? Is it possible that he who did not spare his own Son but handed him over for the sake of us all will not grant us all things besides? Who shall bring a charge against God's chosen ones? God, who justifies? Who shall condemn them? Christ Jesus, who died or rather was raised up, who is at the right hand of God and who intercedes for us?
Who will separate us from the love of Christ? Trial, or distress, or persecution, or hunger, or nakedness, or danger, or the sword? As Scripture says: "For your sake we are being slain all the day long; we are looked upon as sheep to be slaughtered." Yet in all this we are more than conquerors because of him who has loved us. For I am certain that neither death nor life, neither angels nor principalities, neither the present nor the future, nor powers, neither height nor depth nor any other creature, will be able to separate us from the love of God that comes to us in Christ Jesus our Lord.
Gospel
Luke 6:17-23
At that time, coming down the mountain with the twelve, Jesus stopped at a level stretch where there were many of his disciples; a large crowd of people was with them from all Judea and Jerusalem and the coast of Tyre and Sidon, people who came to hear him and be healed of this diseases. Those who were troubles with unclean spirits were cured; indeed, the whole crowd was trying to touch him because power went out from him which cured all.
Then, raising his eyes to his disciples, he said: "Blest are you poor, the reign of God is yours. Blest are you who hunger; you shall be filled. Blest are you who are weeping; you shall laugh. Blest shall you be when men hate you, and proscribe your name as evil because of the Son of Man. On the day they do so, rejoice and exult, for your reward shall be great in heaven."
Readings for the day
Epistle
1 Peter 1: 1-2, 10-12; 2: 6-10
Peter, and apostle to Jesus Christ, to those who live as strangers scattered throughout Pontus, Galatia, Cappadocia, Asia, and Sithynia; to men chosen according to the foreknowledge of God the Father, consecrated by the Spirit to a life of obedience to Jesus Christ and purification with his blood. Favor and peace be yours in abundance.
This is the salvation which the prophets carefully searched out and examined. They prophesied the divine favor that was destined to be yours. They investigated the times and the circumstances which the Spirit of Christ within them was pointing to, for he predicted the sufferings destined for Christ and the glories that would follow. They knew by revelation that they were providing, not for themselves but for you, what has now been proclaimed to you by those who preach the gospel to you, in the power of the Holy Spirit sent from heaven. Into these matters angels long to search.
For Scripture has it: "See, I am laying a cornerstone in Zion, an approved stone, and precious. He who puts his faith in it shall not be shaken." The stone is of value for you who have faith. For those without faith, it is rather, [as Scripture also says] "A stone which the builders rejected that became a cornerstone."
It is likewise "an obstacle and a stumbling stone." Those who stumble and fall are the disbelievers in God's word; it belongs to their destiny to do so. You, however, are a "chosen race, a royal priesthood, a holy nation, a people he claims for his own to proclaim the glorious works" of the One who called you from darkness into his marvelous light. Once you were no people, but now you are God's people; once there was no mercy for you, but now you have found mercy.
Gospel
Mark 13: 1-8
At that time as Jesus was making his way out of the temple area, one of his disciples said to him, "Teacher, look at the huge blocks of stone and the enormous building!" Jesus said to him, "You see these great buildings? Not one stone will be left upon another– all will be torn down." While he was seated on the Mount of Olives facing the temple, Peter, James, and Andrew began to question him privately. "Tell us, when will this occur? What will be the sign that all this is coming to an end?"
Jesus began his discourse: "Be on your guard. Let no one mislead you. Any number will come attempting to impersonate me. 'I am he,' they will claim, and will lead many astray. When you hear about wars and threats of war, do not yield to panic. Such things are bound to happen, but this is not yet the end. Nation will rise against nation, one kingdom against another. There will be earthquakes in various places and there will be famine. This is but the onset of the pains of labor."
Icon courtesy of Jack Figel, Eastern Christian Publications – ecpubs.com
Thursday, January 12 –