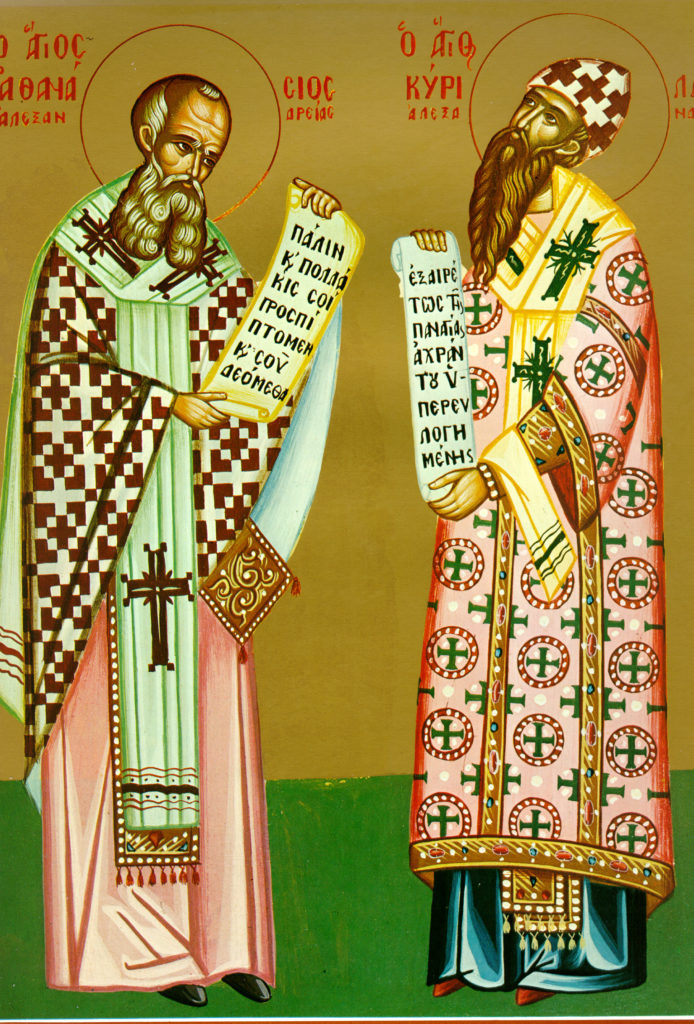 Our holy father St. Athanasius is one of the four great doctors of the Byzantine Church, called the Father of Orthodoxy. He opposed the Arians with admirable zeal and endured exile for 46 years. He died in 373.
Our holy father St. Cyril opposed the Nestorians and taught that the divine and human natures in Christ are united in oneness of person, and that the Theotokos ought truly to be called Mother of God. He presided over the 3rd Ecumenical Council at Ephesus in 431. He died in 444.
Troparion
Shining with works of true faith, you quenched every heretical dogma. You were conquerors in victory and enriched everyone by your holiness. You adorned the Church with regal glory, and you justly found Christ who shows us mercy.
Kontakion
O archbishops, remarkable for your piety and devotion, heroic defenders of the Church of Christ, protect all those who beg of you: O merciful Ones, through your intercession save those who honor you with fervor.
Readings for the fathers
Epistle
Hebrews 13: 7-16
Brothers and sisters: remember your leaders who spoke the word of God to you; consider how their lives ended, and imitate their faith. Jesus Christ is the same yesterday, today, and forever.
Do not be carried away by all kinds of strange teaching. It is good to have our hearts strengthened by the grace of God and not by foods which are useless to those who take them as a standard for a living. We have an altar from which those who serve the tabernacle have no right to eat. The bodies of the animals whose blood is brought into the sanctuary by the high priest as a sin offering are burned outside the camp. Therefore Jesus died outside the gate, to sanctify the people by his own blood. Let us go to him outside the camp, bearing the insults which he bore. For here we have no lasting city; we are seeking one which is to come. Through him let us continually offer God a sacrifice of praise, that is, the fruit of lips which acknowledge his name. Do not neglect good deeds and generosity; God is pleased by sacrifices of that kind.
Gospel
Matthew 5:14-19
The Lord said to his disciples: "You are the salt of the earth. But if salt loses its taste, with what can it be seasoned? It is no longer good for anything but to be thrown out and trampled underfoot. You are the light of the world. A city set on a mountain cannot be hidden. Nor do they light a lamp and then put it under a bushel basket; it is set on a lamp stand, where it gives light to all in the house. Just so, your light must shine before others, that they may see your good deeds and glorify your Heavenly Father."
Readings for the day
Epistle
1 Peter 4: 1-11
Dearly beloved: Christ suffered in the flesh; therefore arm yourselves with his same mentality. He who has suffered in the flesh has broken with sin. You are not to spend what remains of your earthly life on human desires but on the will of God. Already you have devoted enough time to what the pagans enjoy, living lives of debauchery, evil desires, drunkenness, orgies, carousing, and wanton idolatry. It is no wonder that those blasphemers are surprised when you do not plunge into the same swamp of profligacy as they. They shall give an accounting to him who stands ready to judge the living and the dead. The reason the gospel was preached even to the dead was that, although condemned in the flesh in the eyes of men, they might live in the spirit in the eyes of God.
The consummation of all is close at hand. Therefore do not be perturbed; remain calm so that you will be able to pray. Above all, let your love for one another be constant, for love covers a multitude of sins. Be mutually hospitable without complaining. As generous distributors of God's manifold grace, put your gifts at the service of one another, each in the measure he has received. The one who speaks is to deliver God's message. The one who serves is to do it with the strength provided by God. Thus, in all of you God is to be glorified through Jesus Christ: to him be glory and dominion throughout the ages. Amen.
Gospel
Matthew 12: 28-37
At that time one of the scribes came up, and when he heard the Pharisees and Sadducees arguing he realized how skillfully Jesus answered them. He decided to ask Jesus, "Which is the first of all the commandments?" Jesus replied: "This is the first: 'Hear, O Israel! The Lord our God is Lord alone! Therefore you shall love the Lord your God with all your heart, with all your soul, with all your mind, and with all your strength.' This is the second, 'You shall love your neighbor as yourself.' There is no other commandment greater than these." The scribe said to him: "Excellent Teacher! You are right in saying, 'He is the One, there is no other than he.' Yes, 'to love him with all our heart, with all our thoughts and with all our strength, and to love our neighbor as ourselves' is worth more than any burnt offering or sacrifice." Jesus approved the insight of this answer and told him, "You are not far from the reign of God." And no one had the courage to ask him any more questions.
As Jesus was teaching in the temple precincts he went on to say: "How can the scribes claim, 'The Messiah is David's son'? David himself, inspired by the Holy Spirit, said, 'The Lord said to my Lord: Sit at my right hand until I make your enemies your footstool.' If David himself addresses him as 'Lord,' in what sense can he be his son?" The majority of the crowd heard this with delight.
Icon courtesy of Jack Figel, Eastern Christian Publications – ecpubs.com
Tuesday, January 17 –