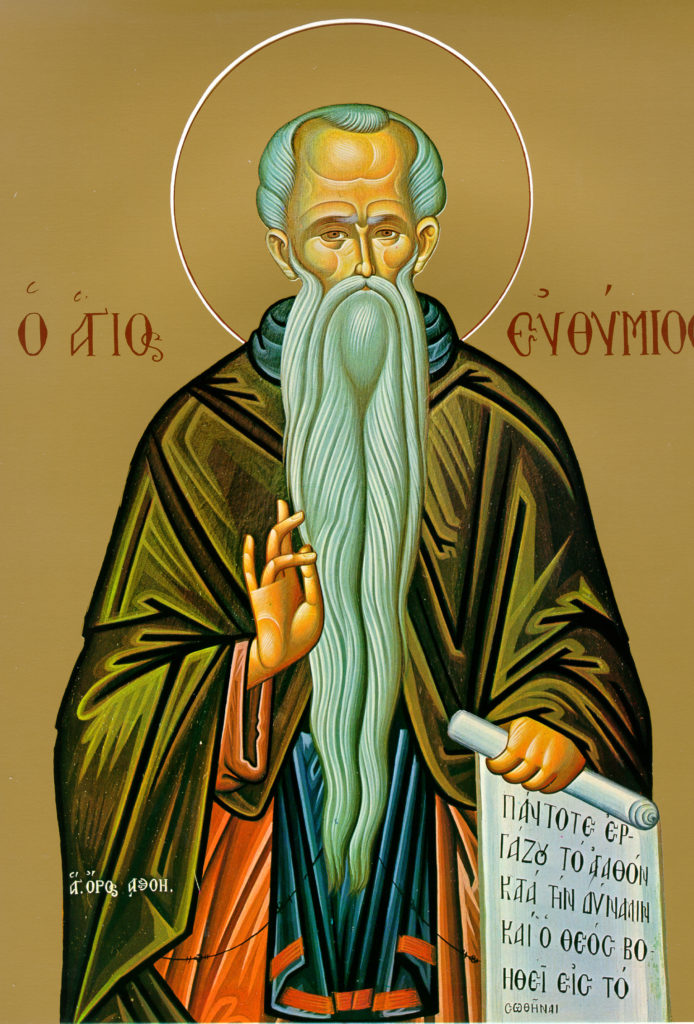 Our venerable and divinely inspired father, Euthymius the Great, Hegumen-Abbot, lived in the fifth century in Melitene in Armenia. His parents were devout Christians of noble birth. However, even after many years of marriage, they were childless. In their sorrow, they entreated God to give them a child. They had a vision and heard a voice tell them: "Be of good cheer! God will grant you a son, who will bring joy to the churches." They named their son Euthymuis which means "good cheer." St. Euthymius became a monk and was ordained to the priesthood. He was entrusted with the supervision of all the monasteries in the city. He frequently visited the monastery of St. Polyeuctus, and during the Great Fast he withdrew to the wilderness. Feeling the great weight of his responsibilities for the monasteries conflicting with his desire for stillness, St. Euthymius secretly left the city and set out for Jerusalem. After venerating the holy shrines, he visited the Fathers in the desert. He settled into a solitary cell in the monastery in Tharan where he lived the rest of his life until he died at the age of ninety-seven.
Troparion
Joy to you, O barren wilderness; rejoice, sterile desert yjsy has never known the travail of birth; for your spouse has multiplied your children. He has planted them in devotion and piety, and made them grow in detachment for the sake of perfect virtue. Through his supplications, Christ our God, give peace to our lives.
Kontakion
Creation takes you in your birth and memory. It is delighted with the abundance of your miracles. Enrich our souls from your treasures, O father, and wash our defilements away so that we can sing: Alleluia!
Readings for the saint
Epistle
2nd Corinthians 4: 6-15
Brothers and sisters: God who said, "Let light shine out of darkness," has shone in our hearts, that we in turn might make known the glory of God shining on the face of Christ. This treasure we possess in earthen vessels to make it clear that its surpassing power comes from God and not from us. We are afflicted in every way possible, but we are not crushed; full of doubts, we never despair. We are persecuted but never abandoned; we are struck down but never destroyed. Continually, we carry about in our bodies the dying of Jesus, so that in our bodies the life of Jesus may also be revealed. While we live we are constantly being delivered to death for Jesus' sake, so that the life of Jesus may be revealed in our mortal flesh. Death is at work in us, but life in you. We have that spirit of faith which the Scripture says, "Because I believed, I spoke out." We believe and so we speak, knowing that he who raised up the Lord Jesus will raise us up along with Jesus and place both us and you in his presence. Indeed, everything is ordered to your great benefit, so that the grace bestowed in abundance may bring greater glory to God because they who give thanks are many.
Gospel
Luke 6:17-23
At that time, coming down the mountain with the twelve, Jesus stopped at a level stretch where there were many of his disciples; a large crowd of people was with them from all Judea and Jerusalem and the coast of Tyre and Sidon, people who came to hear him and be healed of this diseases. Those who were troubles with unclean spirits were cured; indeed, the whole crowd was trying to touch him because power went out from him which cured all.
Then, raising his eyes to his disciples, he said: "Blest are you poor, the reign of God is yours. Blest are you who hunger; you shall be filled. Blest are you who are weeping; you shall laugh. Blest shall you be when men hate you, and proscribe your name as evil because of the Son of Man. On the day they do so, rejoice and exult, for your reward shall be great in heaven."
Readings for the day
Epistle
James 1: 19-27
Brothers and Sisters, keep this in mind. Let every man be quick to hear, slow to speak, slow to anger; for a man's anger does not fulfill God's justice. Strip away all that is filthy, every vicious excess. Humbly welcome the word that has taken route in you, with its power to save you. Act on this word all you do is listen to it, you are deceiving yourselves.
A man who listens to God's word but does not put it into practice is like a man who looks in a mirror at the face he was born with: he looks at himself, then he goes off and promptly forgets what he looks like. There is, on the other hand, the man who appears into freedom's ideal law and abides by it. He is no forgetful listener, but one who carries out the law and practice. Blest will this man be in whatever he does.
If a man who does not control his tongue imagines that he is devout, he is self-deceived; his worship is pointless. Looking after orphans and widows in their distress and keeping oneself unspotted by the world make for pure worship without stain before our God and Father.
Gospel
Mark 10: 17-27
At that time as Jesus was sitting out on a journey a man came running up, knelt down before him and asked, "Good Teacher, what must I do to share an everlasting life?" Jesus answered, "Why do you call me good? No one is good but God alone. You know the Commandments: 'You shall not kill; you shall not commit adultery; you shall not steal; you shall not bear false witness; you shall not defraud; honor your father and your mother.'" The man replied, "Teacher, I have kept all these since my childhood." Then Jesus looked at him with love and told him, "There is one thing more you must do. Go on sale what you have and give it to the poor; you will then have treasure in heaven. After that, come and follow me." At these words the man's face fell. He went away sad, for he had many possessions. Jesus looked around and said to his disciples, "How hard it is for the rich to enter the kingdom of God!" The disciples could only marvel at his words. So Jesus repeated what he had said: "My sons, how hard it is to enter the kingdom of God! It is easier for a camel to pass through a needle's eye than for a rich man to enter the kingdom of God."
The disciples were completely overwhelmed at this, and exclaimed to one another, "Then who can be saved?" Jesus fixed his gaze on them and said, "For man it is impossible but not for God. With God all things are possible."
Icon courtesy of Jack Figel, Eastern Christian Publications – ecpubs.com
Wednesday, January 19 –