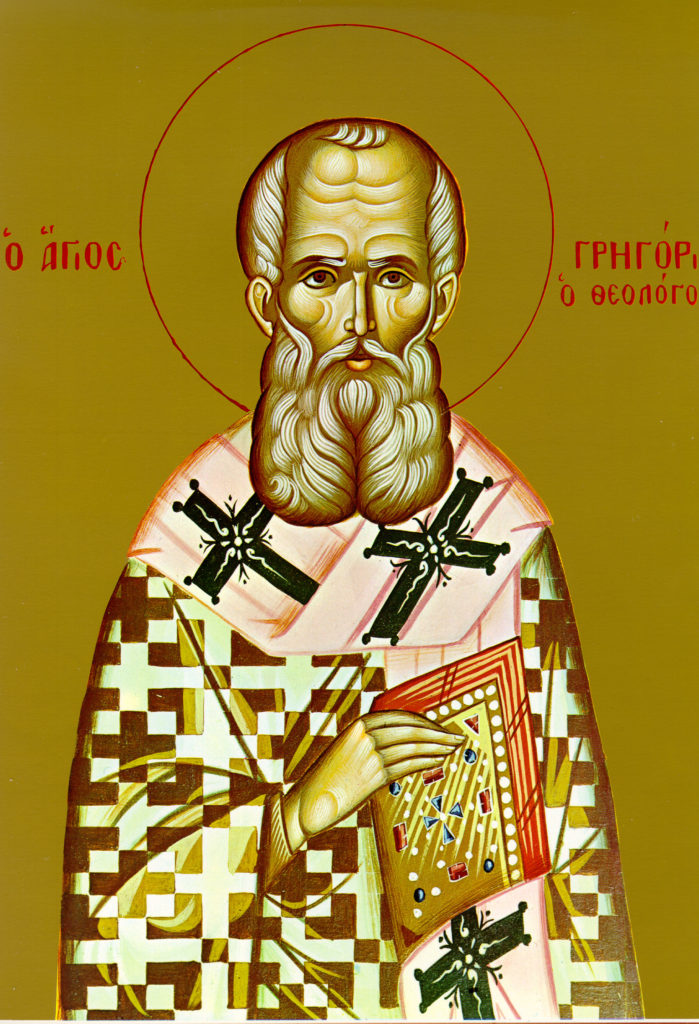 Our holy father Gregory the Theologian, archbishop of Constantinople, the friend of St. Basil; bishop of Sebaste, and then Constantinople, and finally Nazianzus. He defended the divinity of the Word with great ardor, for which reason he is also named "the Theologian." During his time as patriarch of Constantinople, he presided over the Second Ecumenical Council in 381.
Troparion
The sweet melody of your theological teachings has overcome the noisy blasts of orators. For God has granted you the power of penetrating spiritual depths and the gift of brilliant literary talent. Gregory, our father, intercede with Christ our God that He may save our souls.
Kontakion
O glorious Gregory, your theological knowledge has solved the problems raised by orators. You have robed the Church with true theology inspired from on high. The Church puts on this robe and cries out with us, your children: Rejoice, O father, whose theological knowledge is so great.
Readings for Gregory
Epistle
1st Corinthians 12: 7-11
Brothers and sisters: To each person the manifestation of the Spirit is given for the common good. To one the Spirit gives wisdom in discourse, to another the power to express knowledge. Through the Spirit one receives faith; by the same Spirit another is given the gift of healing, and still another miraculous powers. Prophecy is given to one; to another power to distinguish one spirit from another. One receives the gift of tongues, another that of interpreting the tongues. But it is one and the same Spirit who produces all these gifts, distributing them to each as he wills.
Gospel
John 10: 9-16
The Lord said: "I am the gate. Whoever enters through me will be safe. He will go in and out, and find pasture. The thief comes only to steal and slaughter and destroy. I came that they might have life and have it to the full. I am the good shepherd; the good shepherd lays down his own life for the sheep. The hired hand– who is no shepherd now owner of the sheep– catches sight of the wolf coming and runs away, leaving the sheep to be snatched and scattered by the wolf. That is because he works for pay; he has no concern for the sheep. I am the good shepherd. I know my sheep and my sheep know me in the same way that the Father knows me and I know the Father; for these sheep I will give my life. I have other sheep that do not belong to this fold. I must lead them, too, and they shall hear my voice. There shall be one flock then, one shepherd."
Readings for the day
Epistle
James 3:11 – 4:6
Brothers and sisters: Does a spring gush forth fresh water and foul from the same outlet? A fig tree, brothers and sisters, cannot produce olives, or a grapevine figs; no more can a brackish source yield fresh water.
If one of you is wise and understanding, let him show this in practice through a humility filled with good sense. Should you instead nurse bitter jealousy and selfish ambition in your hearts, at least refrain from arrogant and false claims against the truth. Wisdom like this does not come from above. It is earthbound, a kind of animal, even devilish, cunning. Where there are jealousy and strife, there also are inconstancy and all kinds of vile behavior. Wisdom from above, by contrast, is first of all innocent. It is peaceable, lenient, docile, rich in sympathy, and kindly in deeds that are its fruits, impartial and sincere. The harvest of justice is sown in peace for those who cultivate peace.
Where do the conflicts and disputes among you originate? Is it not your inner cravings that make you war within your members? What you desire you do not obtain, and so you resort to murder. You envy and you cannot acquire, so you quarrel and fight. You do not obtain because you do not ask. You ask and you do not receive because you ask wrongly, with a view to squandering what you receive on your pleasures. O you unfaithful ones, are you not aware that love of the world is enmity to God? A man is marked out as God's enemy if he chooses to be the world's friend. Do you suppose it is to no purpose that Scripture says, "The spirit he has implanted in us tends toward jealousy"? Yet he bestows a greater gift, for the sake of which it is written, "God resists the proud but bestows his favor on the lowly."
Gospel
Mark 11: 22-25
The Lord said to his disciples, "Put your trust in God. I solemnly assure you, whoever says to this mountain, 'Be lifted up and thrown into the sea,' and has no inner doubts but believes that what he says will happen, shall have it done for him. I give you my word, if you are ready to believe that you will receive whatever you ask for in prayer, it shall be done for you. When you stand to pray, forgive anyone against whom you have a grievance so that your heavenly Father may in turn forgive you your faults."
Icon courtesy of Jack Figel, Eastern Christian Publications – ecpubs.com
Tuesday, January 24 –