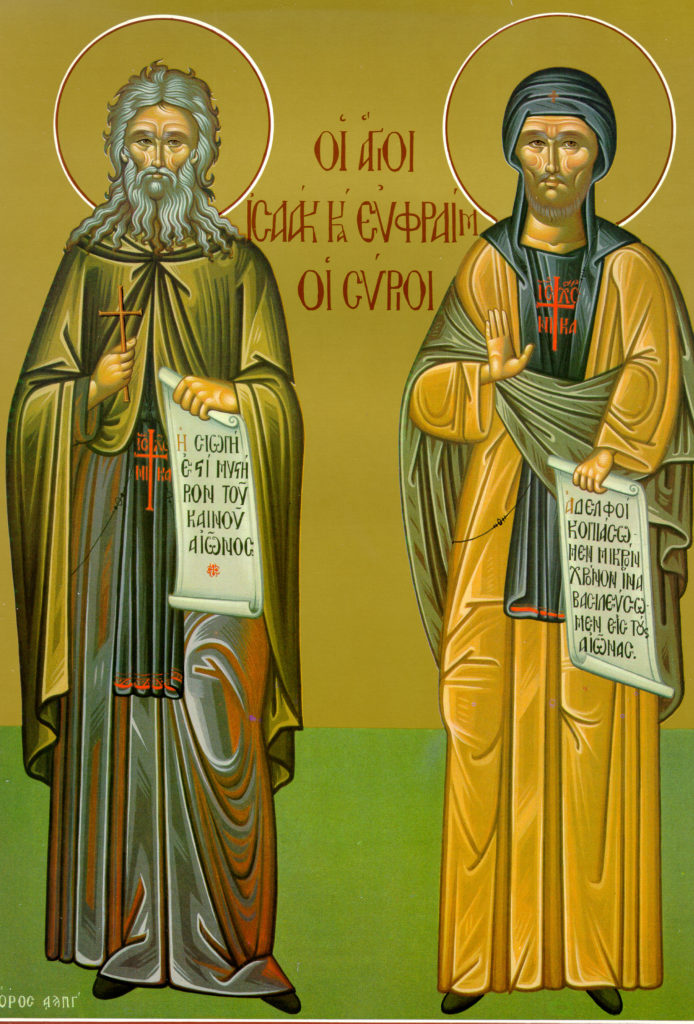 Our venerable father Ephrem the Syrian, Bishop of Nineveh, who, first in his own hometown of Nisibis, exercised the office of preaching and of handing on holy teaching. Then, when the Persians invaded Nisibis, he fled with his disciples to Edessa in Syria, where he set down the fundamentals of a school of theology, fulfilling his ministry by his words and writings. So striking is the austerity of his life and clarity of his teachings that from the exquisite hymns he composed he has deserved to be called the harp of the Holy Spirit.
Troparion
Your abundant tears made the wilderness bloom, and your suffering made your labors fruitful a hundredfold; you became a shining torch over the world. O venerable father Ephrem, pray to Christ our God that He may save our souls.
Kontakion
Ever conscious of the hour of judgement, you shed tears of bitter lament, O Ephrem. Your activity embraced the life of silence which you loved so dearly. By your actions you have taught us. You have spurred the lazy to repentance.
Reading for Ephrem
Epistle
Galatians 5:22 – 6:2
Brothers and sisters: The fruit of the spirit is love, joy, peace, patient endurance, kindness, generosity, faith, mildness and chastity. Against such there is no law! Those who belong to Christ Jesus have crucified their flesh with its passions and desires. Since we live by the spirit, let us follow the spirit's lead. Let us never be boastful, or challenging, or jealous toward one another.
Brothers and sisters, if someone is detected in sin, you who live by the spirit should gently set him right, each of you trying to avoid falling into temptation himself. Help carry one another's burden; in this way you will fulfill the law of Christ.
Gospel
Matthew 11: 27-30
The Lord said to his disciples: "Everything has been given over to me by my Father. No one knows the Son except the Father, and no one knows the Father except the Son– and anyone whom the Son wishes to reveal Him."
"Come to me, all you who are weary and find life burdensome, and I will refresh you. Take my yoke upon your shoulders and learn from me, for I am gentle and humble of heart. Your souls will find rest, for my yoke is easy and my burden light."
Reading for the day
Epistle
1 Peter 1: 1-2. 10-12; 2: 6-10
Peter, and apostle to Jesus Christ, to those who live as strangers scattered throughout Pontus, Galatia, Cappadocia, Asia, and Sithynia; to men chosen according to the foreknowledge of God the Father, consecrated by the Spirit to a life of obedience to Jesus Christ and purification with his blood. Favor and peace be yours in abundance.
This is the salvation which the prophets carefully searched out and examined. They prophesied the divine favor that was destined to be yours. They investigated the times and the circumstances which the Spirit of Christ within them was pointing to, for he predicted the sufferings destined for Christ and the glories that would follow. They knew by revelation that they were providing, not for themselves but for you, what has now been proclaimed to you by those who preach the gospel to you, in the power of the Holy Spirit sent from heaven. Into these matters angels long to search.
For Scripture has it: "See, I am laying a cornerstone in Zion, an approved stone, and precious. He who puts his faith in it shall not be shaken." The stone is of value for you who have faith. For those without faith, it is rather, [as Scripture also says] "A stone which the builders rejected that became a cornerstone."
It is likewise "an obstacle and a stumbling stone." Those who stumble and fall are the disbelievers in God's word; it belongs to their destiny to do so. You, however, are a "chosen race, a royal priesthood, a holy nation, a people he claims for his own to proclaim the glorious works" of the One who called you from darkness into his marvelous light. Once you were no people, but now you are God's people; once there was no mercy for you, but now you have found mercy.
Gospel
Mark 12: 1-12
At that time Jesus began to address the chief priests, the scribes, and the elders once more in parables: "A man planted a vineyard, put a hedge around it, dug a vat, and erected a tower. Then he leased it to tenant farmers and went on a journey. In due time he dispatched a man in her service to the tenants to obtain from them his share of produce from the vineyard. But the tenants seized the servant, beat him, and sent him off empty-handed. The second time he sent them another servant; him too they beat over the head and treated shamefully. He sent yet another and they killed him. So too with many others: some they beat; some they killed. He still had one to send – the son whom he loved. He sent him to the tenants as a last resort, thinking, 'They will have to respect my son.' But those tenants said to one another, 'Here is the one who will inherit everything. Come, let us kill him, and the inheritance will be ours.' Then they seized and killed him and dragged him outside the vineyard. What do you suppose the owner of the vineyard will do? He will come and destroy those tenants and turn his vineyard over to others. Are you not familiar with the passage of Scripture: 'The stone rejected by the builder has become the keystone of the structure. It was the Lord who did it and we find it marvelous to behold'?"
They wanted to arrest him at this, yet they had reason to fear the crowd. (They knew well enough that he meant the parable for them.) Finally they left him and went off.
Icon courtesy of Jack Figel, Eastern Christian Publications – ecpubs.com
Thursday, January 27 –