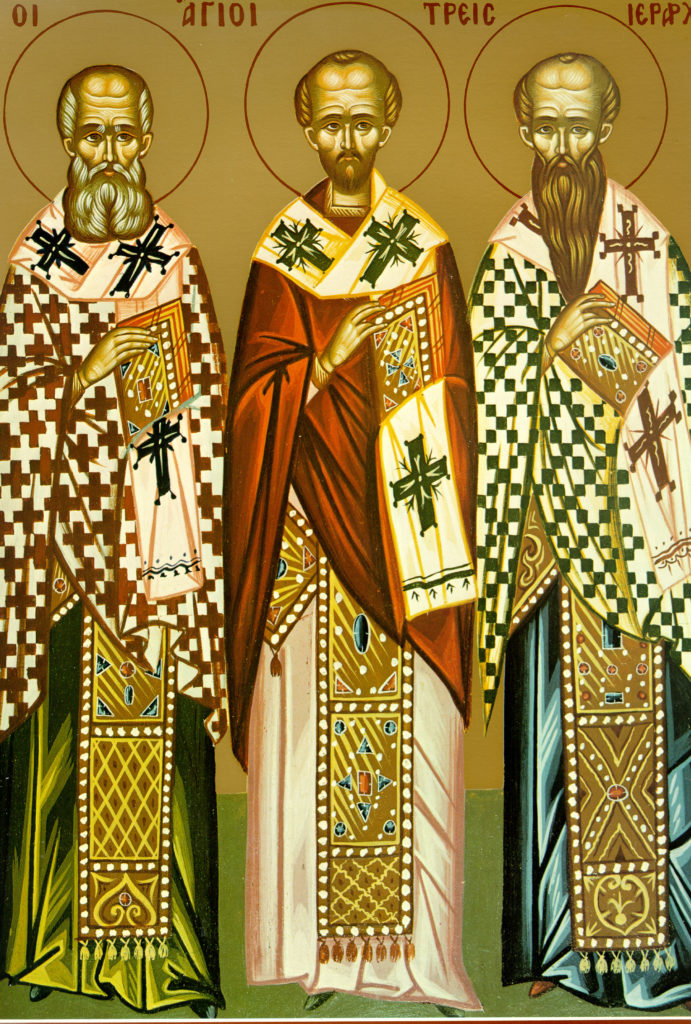 The three Holy Hierarchs: Basil the Great, Gregory the Theologian, and John Chrysostom. All three of these saints have their own feast days. This celebration began in 1100 in the days of the Emperor Alexis Comnenus. A great quarrel arose in Constantinople as to which of these three was the greatest theologian. They appeared in a dream to Patriarch John and told him that they were equal before God, and each had his special gifts and talents. John chose Jan. 30 to commemorate all three of them together, and composed the office.
Troparion
O teachers of the universe, equal to the apostles, pray to the Lord of all to grant peace to the world and abundant mercy to our souls.
Kontakion
O Lord, You have received your priestly and inspired preachers, the crown of your teachers, into the enjoyment of your goodness and repose. You accepted their labors and death above any other sacrifice, for only You can glorify your saints.
Readings for the saints
Epistle
Hebrews 13: 7-16
Brothers and sisters: Remember your leaders who spoke the word of God to you; consider how their lives ended, and imitate their faith. Jesus Christ is the same yesterday, today, and forever. Do not be carried away by all kinds of strange teaching. It is good to have our hearts strengthened by the grace of God and not by foods which are useless to those who take them as a standard for living. We have an altar from which those who serve the tabernacle have no right to eat. The bodies of the animals whose blood is brought into the sanctuary by the high priests as a sin offering are burned outside the camp. Therefore Jesus died outside the gate, to sanctify the people by his own blood. Let us go to him outside the camp, bearing insult which he bore. For here we have no lasting city; we are seeking one which is to come. Through him let us continually offer God a sacrifice of praise, that is, the fruit of lips which acknowledge his name. Do not neglect good deeds and generosity; God is pleased by sacrifices of that kind.
Gospel
Mathew 5: 14-19
The Lord said to his disciples: "You are the light of the world. A city set on a hill cannot be hidden. Men do not light a lamp and then put it under a bushel basket. They set it on a stand where it gives light to all in the house. In the same way, your light must shine before men so that they may see goodness in your acts and give praise to your heavenly Father.
"Do not think that I have come to abolish the law and the prophets. I have come, not to abolish them, but to fulfill them. This much I assure you: until heaven and earth pass away, not the smallest letter of the law, not the smallest part of a letter, shall be done away with until it all comes true. That is why whoever breaks the least significant of these commands and teaches others to do so shall be called least in the kingdom of God. Whoever fulfills and teaches these commands shall be great in the kingdom of God."
Readings for the day
Epistle
1st Timothy 4: 9-16
Timothy my son: You can depend on [training in godliness] as worthy of complete acceptance. This explains why we work and struggle as we do; our hopes are fixed on the living God who is the savior of all men, but especially of those who believe.
Such are the things you must urge and teach. Let no one look down on you because of your youth, but be a continuing example of love, faith, and purity to believers. Until I arrive, devote yourself to the reading of Scripture, to preaching and teaching. Do not neglect the gift you received when, as a result of prophecy, the presbyters laid their hands on you. Attend to your duties; let them absorb you, so that everyone may see your progress. Watch yourself and watch your teaching. Persevere at both tasks. By doing so you will bring to salvation yourself and all who hear you.
Gospel
Luke 19: 1-10
At that time, entering Jericho, Jesus passed through the city. There was a man there named Zacchaeus, the chief tax collector and a wealthy man. He was trying to see what Jesus was like, but being small in stature, was unable to do so because of the crowd. He first ran on in front, then climbed a sycamore tree which was along Jesus' route, in order to see him. When Jesus came to the spot he looked up and said, "Zacchaeus, hurry down. I mean to stay at your house today." He quickly descended, and welcomed Jesus with delight. When this was observed, everyone began to murmur, "He has gone to a sinner's house as a guest." Zachaeus stood his ground and said to the Lord, "I give half my belongings, Lord, to the poor. If I have defrauded anyone in the least, I pay him back fourfold." Jesus said to him, "Today salvation has come to this house, for this is what it means to be a son of Abraham. The Son of Man has come to search out and save what was lost.
Icon courtesy of Jack Figel, Eastern Christian Publications – ecpubs.com
Saturday, January 29 –