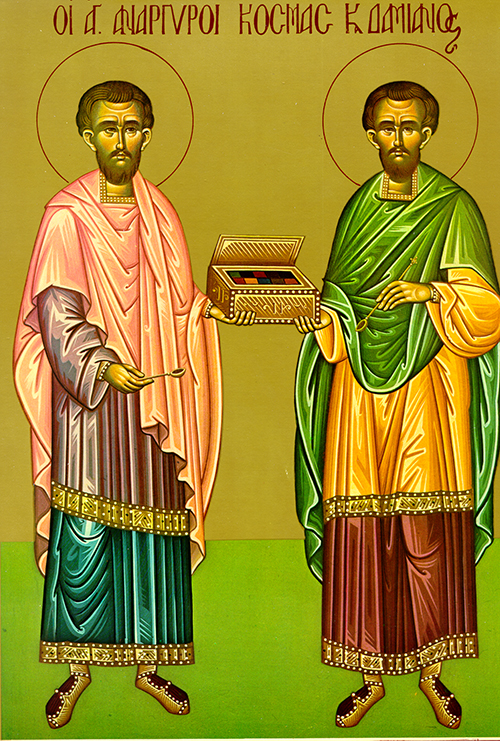 The holy martyrs, wonderworkers, and unmercenary healers Cosmas and Damian were brothers born in Rome, and physicians by profession. They led strict chaste lives and were granted by God the gift to heal the sick. By their generosity and exceptional kindness, the brothers converted many to Christ. Their spiritual influence attracted the attention of the Roman authorities, and soldiers sought out the brothers to arrest them. Local Christians convinced the brothers to go into hiding to prevent their capture. Other Christians were arrested in their place which caused Cosmas and Damian to surrender themselves to the soldiers on the condition the others who had been arrested because of them be released. They confessed in front of the emperor Carnius (283-284), who became blind through the power of the saints' prayers. All present were converted, even Carnius, who begged the saints to heal him. The martyrs met their end at the hands of their former teacher who grew jealous as the fame of his former pupils grew as word of their holy acts spread.
Troparion
Today the people sing to God on high because He gave us doctors who practiced without fee. Let us sing to the holy Cosmas and glorious Damian: Since you have been given the grace to cure so freely, distribute it freely among those who venerate you.
Kontakion
Receiving the grace to heal from the source of miracles, you generously used it for those who called on you. Visit us in our spiritual and physical needs, holy doctors Cosmas and Damian, and seek mercy from Christ our God for us.
Epistle
Romans 18: 14-21
Brothers and sisters: All who are led by the Spirit of God are sons of God. You did not receive a spirit of slavery leading you back into fear, but a spirit of adoption through which we cry out, "Abba!" (that is, "Father"). The Spirit himself gives witness with our spirit that we are children of God. But if we are children, we are heirs as well: heirs of God, heirs with Christ, if only we suffer with him so as to be glorified with him.
I consider the sufferings of the present to be as nothing compared with the glory to be revealed in us. Indeed, the whole created world eagerly awaits the revelation of the sons of God. Creation was made subject to futility, not of its own accord but by him who once subjected it; yet not without hope, because the world itself will be freed from its slavery to corruption and share in the glorious freedom of the children of God.
Gospel
Matthew 9: 9-13
At that time as he moved on, Jesus saw a man named Matthew at his post where taxes were collected. Jesus said to him, "Follow me." Matthew got up and followed him. Now it happened that, while Jesus was at table in Matthew's home, many tax collectors and those known as sinners came to join Jesus and his disciples at dinner. The Pharisees saw this and complained to his disciples, "What reason can the Teacher have for eating with tax collectors and those who disregard the law?" Overhearing the remark, Jesus said: "People who are in good health do not need a doctor; sick people do. Go and learn the meaning of the words, 'It is mercy I desire and not sacrifice.' I have come to call, not the self-righteous, but sinners."
Icon courtesy of Jack Figel, Eastern Christian Publications – ecpubs.com
Friday, June 30 –