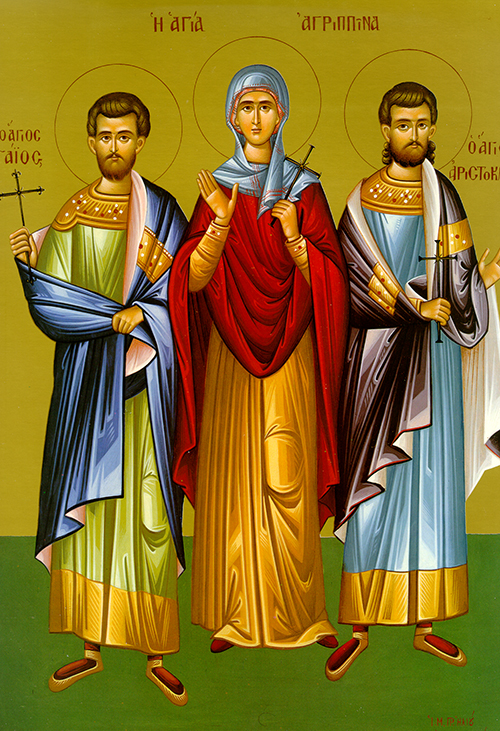 The holy martyr Agrippina was a Roman by birth. She did not wish to marry, and totally dedicated her life to God. During the time of persecution against Christians under the emperor Valerian (253-259) the saint went before the court and bravely confessed her faith in Christ, for which she was given over to torture. They beat the holy virgin with sticks so severely that they broke her bones. Afterwards, they put St. Agrippina in chains, but an angel freed her from her bonds. The holy confessor died from the tortures she endured. The Christians Bassa, Paula, and Agathonike secretly took the body of the holy martyr and transported it to Sicily, where many miracles were worked at her grave. In the 11th century the relics of the holy martyr Agrippina were transferred to Constantinople.
Troparion
You were overcome with love of the heavenly Lord and turned from the world and care of the flesh. You endured the afflictions imposed on you, saying: Receive me into your love, O Christ, King of ages, for I am being consumed for You. Make those who honor you happy in his mercy, O most praiseworthy martyr Agrippina.
Kontakion
The radiant day of your shining virtues has arrived. On this day the Church of God honors you and calls all to cry out joyfully: Rejoice, O virgin and martyr, most honorable Agrippina.
Epistle
Romans 8: 22-27
Brothers and sisters: We know that all creation groans and is in agony even until now. Not only that, but we ourselves, although we have the Spirit as first fruits, groan inwardly while we await the redemption of our bodies. In hope we were saved. But hope is not hope if its object is seen; how is it possible for one to hope for what he sees? And hoping for what we cannot see means awaiting it with patient endurance.
The Spirit too helps us in our weakness, for we do not know how to pray as we ought; but the Spirit himself makes intercession for us with groanings that cannot be expressed in speech. He who searches hearts knows what the Spirit means, for the Spirit intercedes for the saints as God himself wills.
Gospel
Matthew 10: 23-31
The Lord said to his disciples: "When they persecute you in one town, flee to the next. I solemnly assure you, you will not have covered the towns of Israel before the Son of Man comes.
"No pupil outranks his teacher, no slave his master. The pupil should be glad to become like his teacher, the slave like his master. If they call the head of the house Beelzebul, how much more the members of his household! Do not let them intimidate you. Nothing is concealed that will not be revealed, and nothing hidden that will not become known. What I tell you in darkness, speak in the light. What you hear in private, proclaim from the housetops.
"Do not fear those who deprive the body of life but cannot destroy the soul. Rather, fear him who can destroy the soul. Rather, fear him who can destroy both body and soul in Gehenna. Are not two sparrows sold for next to nothing? Yet not a single sparrow falls to the ground without your Father's consent. As for you, every hair of your head has been counted; so do not be afraid of anything. You are worth more than an entire flock of sparrows."
Icon courtesy of Jack Figel, Eastern Christian Publications – ecpubs.com
Wednesday, June 22 –