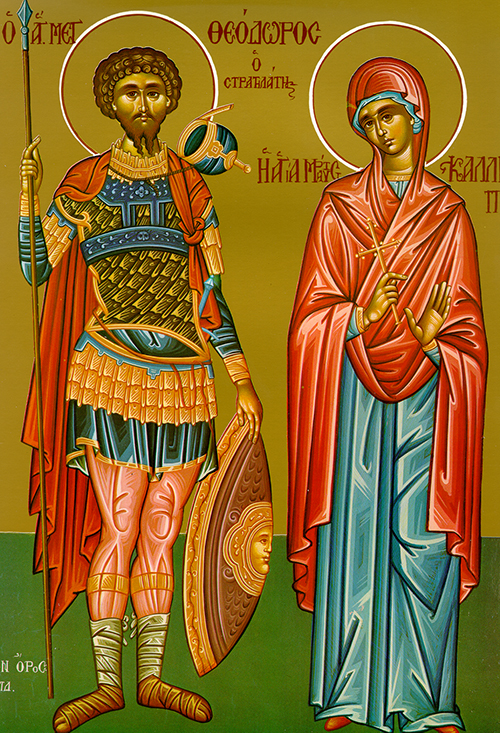 The Holy Great Martyr Theodore the Recruit suffered for Christ in Herakleia on 8 February 319. At the time of his sufferings the holy martyr Theodore ordered his servant Uaros to bury his body on the estate of his parents in Eukaitos. The transfer of the relics of the Greatmartyr Theodore was done on 8 June 613 during the reign of the emperor Heraclius.
Troparion
You became a brilliant general in the real armies of the King of heaven, O Theodore the Triumphant. You fought courageously with the weapons of faith and put the legions of demons to flight. Therefore, we praise you with fervor at all times.
Kontakion
O Theodore, pride of martyrs, you put on the armor of faith and took the Word of God as a spear to vanquish the enemy. In the company of the martyrs, do not cease to intercede with Christ our God in behalf of all of them.
Epistle
Romans 1: 18-27
Brothers and sisters: The wrath of God is being revealed from heaven against the irreligious and perverse spirit of men who, in this perversity of theirs, hinder the truth. In fact, whatever can be known about God is clear to them; he himself made it so. Since the creation of the world, invisible realities, God's eternal power and divinity, have become visible, recognized through many things he has made. Therefore these men are inexcusable. They certainly had knowledge of God, yet they did not glorify him as God or give him thanks; they stultified themselves through speculation to no purpose, and their senseless hearts were darkened. They claimed to be wise, but turned into fools instead; they exchanged the glory of the immortal God for images representing mortal man, birds, beasts, and snakes. In consequence, God delivered them up in their lusts to unclean practices; they engaged in the mutual degradation of their bodies, these men who exchanged the truth of God for a lie and worshiped and served the creature rather than the Creator blessed be he forever, amen! God therefore delivered them up to disgraceful passions. Their women exchanged natural intercourse for unnatural, and the men gave up natural intercourse with women and burned with lust for one another. Men did shameful things with men, and thus received in their own persons the penalty for their perversity.
Gospel
Matthew 5: 20-26
The Lord said to his disciples: "I tell you, unless your holiness surpasses that of the scribes and Pharisees you shall not enter the kingdom of God. You have heard the commandment imposed on your forefathers, 'You shall not commit murder; every murderer shall be liable to judgment.' What I say to you is: everyone who grows angry with his brother shall be liable to judgment; any man who uses abusive language toward his brother shall be answerable to the Sanhedrin, and if he holds his brother in contempt he risks the fires of Gehenna. If you bring your gift to the altar and there recall that your brother has anything against you, leave your gift at the altar, go first to be reconciled with your brother, and then come and offer your gift. Lose no time; settle with your opponent while on your way to court with him. Otherwise your opponent may hand you over to the guard, who will throw you into prison. I warn you, you will not be released until you have paid the last penny."
Icon courtesy of Jack Figel, Eastern Christian Publications – ecpubs.com
Tuesday, June 7 –