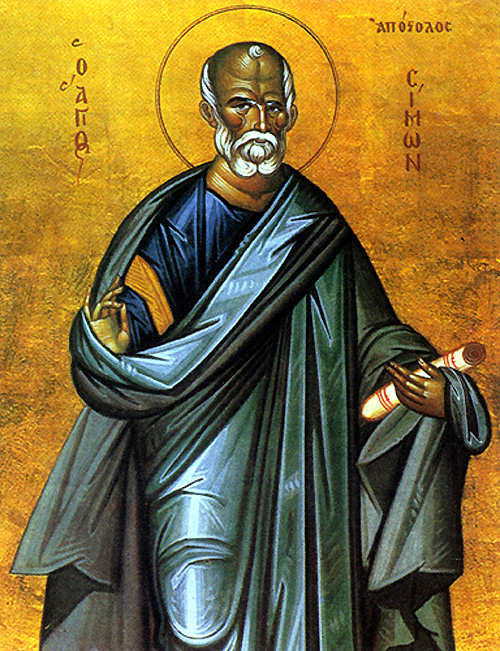 The holy apostle Simon was from Cana in Galilee, and was known to the Lord and His Mother. Tradition says that he was the bridegroom at the wedding where the Savior performed His first miracle. After witnessing the miracle of the water turned into wine, he became a zealous follower of Christ. For this reason, he is known as St. Simon the Zealot. St. Simon was one of the Twelve Apostles, and received the Holy Spirit with the others on Pentecost. He traveled to many places from Britain to the Black Sea, proclaiming the Gospel of Christ. After converting many pagans to the Lord, St. Simon suffered martyrdom by crucifixion.
Troparion
O holy apostle Simon, intercede with the all-merciful God that he may grant us forgiveness of our sins.
Kontakion
With holy hymns we bless Simon as a preacher of God, who rooted wisdom deeply in the hearts of the pious. Now he stands before the throne of Glory and rejoices in the company of angels. He prays unceasingly for all of us.
Readings for the saint
Epistle
1st Corinthians 4: 9-16
Brothers and sisters: As I see it, God has put us apostles at the end of the line, like men doomed to die in the arena. We have become like a spectacle to the universe, to angels and men alike. We are fools on Christ's account. Ah, but in Christ you are wise! We are the weak ones, you the strong! They honor you, while they sneer at us! Up to this very hour we go hungry and thirsty, poorly clad, roughly treated, wandering about homeless. We work hard at manual labor. When we are insulted we respond with a blessing. Persecution comes our way; we bear it patiently. We are slandered, and we try conciliation. We have become the world's refuse, the scum of all; that is the present state of affairs.
I am writing you this way not to shame you but to admonish you as my beloved children. Granted you have ten thousand guardians in Christ, you have only one father. It was I who begot you in Christ Jesus through my preachings of the gospel. I beg you, be imitators of me.
Gospel
Matthew 13: 54-58
At that time, Jesus went to his native place and spent his time teaching them in their synagogues. They were filled with amazement, and said to one another, "Where did this man get such wisdom and miraculous powers? Isn't this the carpenter's son? Isn't Mary known to be his mother and James, Joseph, Simon, and Judas his brothers? Aren't his sisters our neighbors? Where did he get all this?" They found him altogether too much for them. Jesus said to them, "No prophet is without honor except in his native place, indeed in his own house." And he did not work many miracles there because of their lack of faith.
Readings for the day
Epistle
Acts 10: 21-33
In those days, Peter went down to the men and said, "I am the man you are looking for. What has brought you here?" They answered: "the centurion Cornelius, who was an upright and God-fearing man, well thought of in the whole Jewish community, has been instructed by a holy messenger to summon you to his house. There he is to hear what you have to say." With that, Peter invited them in and treated them as guests.
The next day Peter went off with them, accompanied by some of the brothers from Joppa. The following day, he arrived in Caesarea. Cornelius, who was expecting them, had called in his relatives and close friends. As Peter entered, Cornelius went to meet him, dropped to his knees before him and bowed low. Peter said as he helped him to his feet, "Get up! I am only a man myself." Peter then went in, talking with him all the while. He found many people assembled there, and he began speaking to them thus: "You must know that it is not proper for a Jew to associate with a Gentile or to have dealings with him. But God has made it clear to me that no one should call any man unclean or impure. That is why I have come in response to your summons without raising any objection. I should, of course, like to know why you summoned me." Cornelius replied: "Just three days ago at this very hour, namely three o'clock, I was praying at home when a man in dazzling robes stood before me. 'Cornelius,' he said, 'your prayer has been heard and your generosity remembered in God's presence. Send someone to Joppa to invite Simon known as Peter to come here. He is a guest in the house of Simon the leather tanner, by the sea.' (Then Cornelius continued) I sent for you immediately, and you have been kind enough to come. All of us stand before God at this moment to hear whatever directives the Lord has given you."
Gospel
John 7: 1-13
At that time, Jesus moved about within Galilee. He had decided not to travel in Judea because some of the Jews were looking for a chance to kill him. However, as the Jewish feast of Booths drew near, his brothers had this to say: "You ought to leave here and go to Judea so that your disciples there may see the works you are performing. No one who wishes to be known publicly keeps his actions hidden. If you were going to do things like these, you may as well display yourself to the world at large." As a matter of fact, not even his brothers had much confidence in him.
Jesus answered them: "It is not yet the right time for me, whereas the time is always right for you. The world is incapable of hating you, but it does hate me because of the evidence I bring against it that what it does is evil. Go up yourselves to the festival. I am not going up to this festival because the time is not yet ripe for me." Having said that, he stayed on in Galilee. However, once his brothers had gone up to the festival he too went up, but as if in secret and not for all to see.
During the festival, naturally, the Jews were looking for him, asking, "Where is that troublemaker?" Among the crowds there was much guarded debate about Jesus. Some maintained, "He is a good man," while others kept saying, "Not at all — he is only misleading the crowd!" No one dared talk openly about him, however, for fear of the Jews.
Monday, May 9 –