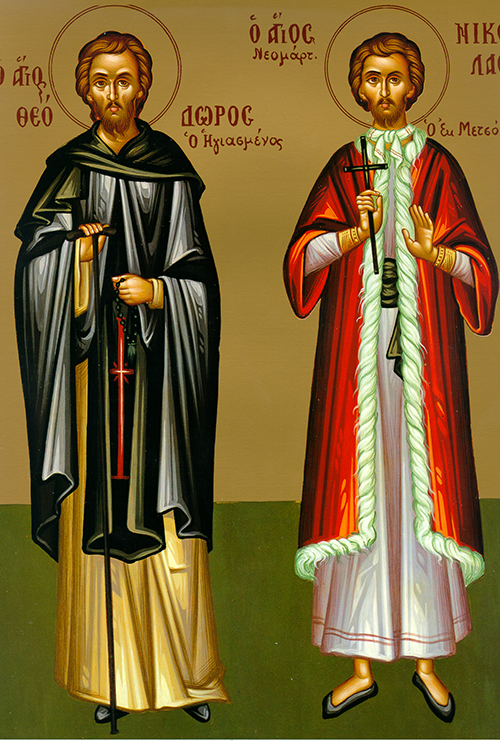 Our venerable father Theodore was a disciple of St. Pachomius. Yearning for the monastic life at an early age, he left his parents home at the age of fourteen and joined one of St. Pachomius' monasteries. St. Theodore cared for St. Pachomius during his final illness. He became the hegumen of all of St. Pachomius' monasteries, and eventually the head of all the monasteries in Thebaid. St. Theodore was famed for his holiness of life and his great gift of wonderworking.
Troparion
You made the wilderness your dwelling, O father Theodore, the bearer of God. You became an angel in the flesh and a wonderworker. Through fast, vigils, and prayers, you obtained from God special graces to heal the sick and to sanctify the souls of those who come to you with trust. Glory to the One who gave you strength! Glory to the One who crowned you! Glory to the One who through your intercession grants healing to all!
Kontakion
You bloomed like a flower in the house of God, bearing the fragrant fruit of virtue through your fasting. You have been made an equal of angels for this, O venerable father.
Epistle
Acts 12: 12-17
In those days [after Peter had been miraculously freed from prison], he went to the house of Mary the mother of John (also known as Mark), where many others gathered in prayer. Peter knocked at the door and a maid named Rhoda came to answer it. On recognizing his voice she was so overjoyed that she did not stop to open the door, but ran in and announced that Peter was outside. "You're out of your wits," they said to her, but she insisted it was true. All they could say was, "It must be his angel." Through all this, Peter kept on knocking. They finally opened the door and were astonished to see him. He motioned to them to be quiet, and explained how the Lord had brought him out of prison. "Report this to James and the brothers," he said, then left them to go off to another place.
Gospel
John 8: 42-51
The Lord said to the people coming to him: "were God your father you would love me, for I came forth from God, and am here. I did not come of my own will; it was he who sent me. Why do you not understand what I say? It is because you cannot bear to hear my word. The father you spring from is the devil, and willingly you carry out his wishes. He brought death to man from the beginning, and has never based himself on truth; the truth is not in him. Lying speech is his native tongue; he is a liar and the father of lies. But because I deal in the truth, you give me no credence. Can any one of you convict me of sin? If I am telling the truth, why do you not believe me? Whoever is of God hears every word God speaks. The reason you do not hear is that you are not of God."
The Jews answered, "Are we not right, after all, in saying you are a Samaritan, and possessed besides?" Jesus replied: "I am not possessed. However, I revere my Father, while you fail to respect me. I seek no glory for myself; there is one who seeks it, and it is he who judges. I solemnly assure you, if a man is true to my word he shall never see death."
Icon courtesy of Jack Figel, Eastern Christian Publications – ecpubs.com
Sunday, May 15 –