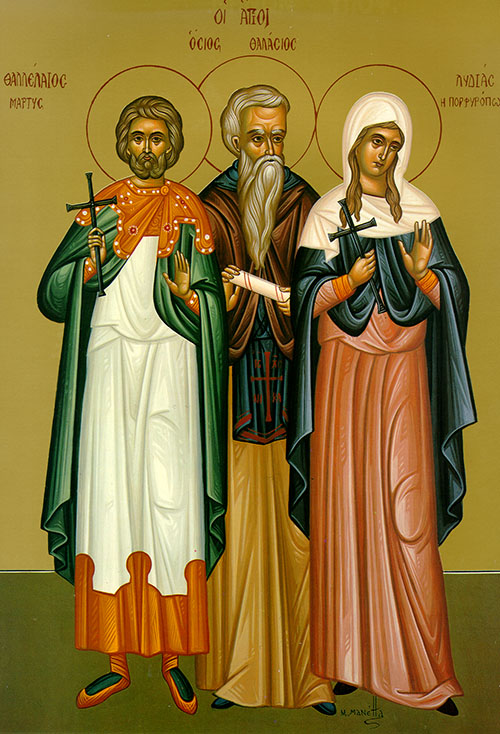 The holy martyr Thaleleus at Agea in Cilicia. Born in Lebanon in the third century, St. Thaleleus was an eighteen-year-old fair haired young man, training to be a physician. He courageously confessed Christ as God. After several attempts to execute the martyr, he was finally beheaded. The relics of the holy martyr Thalelaeus are in the church of St. Agathonicus of Constantinople and have performed many miracles. Because he treated the sick without payment, the Church calls St. Thalelaeus an Unmercenary Physician. He is invoked in prayers during the sacrament of the Anointing of the Sick, and during the Blessing of Waters.
Troparion
O Lord our God, your holy martyr Thaleleus has deserved the crown of immortality on account of his good fight. Armed with your strength, he has vanquished his persecutors and crushed Satan's dreadful might. Through his supplications, O Christ our God, save our souls.
Kontakion
Becoming a companion of martyrs and a good warrior, you were a pleasing soldier to Christ, the King of glory. You wiped out the glory of idols by endurance and pain; therefore, O wise Thaleleus, we praise your memory.
Epistle
Acts 15: 5-12
In those days, some of the converted Pharisess then got up and demanded that such Gentiles be circumcised and told to keep Mosaic law. The apostles and the presbyters accordingly convened to look into the matter. After much discussion, Peter took the floor and said to them: "Brothers, you know well enough that from the early days God selected me from your number to be the one whose lips the Gentile would hear the message of the gospel and believe. God, who reads the hearts of men, showed his approval by granting the Holy Spirit to them just as he did to us. He made no distinction between them and us, but purified their hearts by means of faith also. Why, then, do you put God to the test by trying to place on the shoulders of these converts a yoke which neither we nor our fathers were able to bear? Our belief is rather that we are saved by the favor of the Lord Jesus and so are they." At that the whole assembly fell silent. They listened to Barnabas and Paul as the two described all the signs and wonders God had worked among the Gentiles through them.
Gospel
John 10: 17-28
The Lord said to the people coming to him: "The Father loves me for this: that I lay down my life to take it up again. No one takes it from me; I lay it down freely. I have power to lay it down, and I have power to take it up again. This command I received from my Father."
Because of these words, the Jews were sharply divided once more. Many were claiming: "He is possessed by a devil – out of his mind! Why pay attention to him?" Others maintained: "These are not the words of a madman. Surely a devil cannot open the eyes of the blind!"
It was winter, and the time came for the feast of the Dedication in Jerusalem. Jesus was walking in the temple area, in Solomon's Portico, when the Jews gathered around him and said, "How long are you going to keep us in suspense? If you really are the Messiah, tell us so in plain words." Jesus answered: "I did tell you, but you do not believe. The works I do in my Father's name give witness in my favor, but you refuse to believe because you are not my sheep. My sheep hear my voice. I know them, and they follow me. I give them eternal life, and they shall never perish."
Icon courtesy of Jack Figel, Eastern Christian Publications – ecpubs.com
Thursday, May 19 –