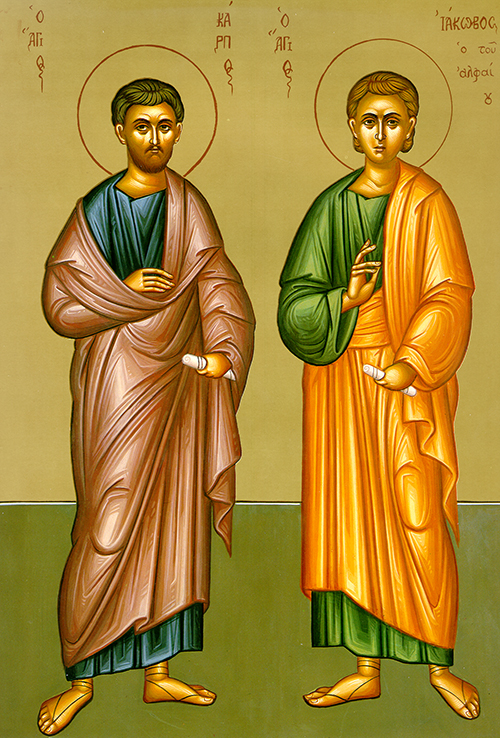 Carpus was one of the Seventy Apostles. He was a follower and companion of the Apostle Paul, by whom he was appointed Bishop of Varna in Thrace. He also preached the Gospel on Crete, where he received St. Dionysius the Areopagite in his home. St. Dionysius testifies that Carpus was a man with an exceptionally pure mind, meekness and innocence; that the Lord Jesus, with His angels, appeared to him in a vision and that he never began the Divine Liturgy without first receiving a heavenly vision.
Troparion
O holy apostle Carpus, intercede with the all-merciful God that He may grant us forgiveness of our sins.
Kontakion
The Church has cherished you as a twinkling star, and she has rejoiced in your light, O Carpus. She is illumined by the glow of your miracles, so save those who cling to your memory with faith.
Epistle
Acts 1: -12
In my first account, Theophilus, I dealt with all that Jesus did and taught until the day he was taken up to heaven, having first instructed the apostles he had chosen through the Holy Spirit. In the time after his suffering he showed them in many convincing ways that he was alive, appearing to them over the course of forty days and speaking to them about the reign of God. On one occasion when he met with them, he told them not to leave Jerusalem: "Wait, rather, for the fulfillment of my Father's promise, of which you have heard me speak. John baptized with water, but within a few days you will be baptized with the Holy Spirit."
While they were with him they asked, "Lord, are you going to restore the rule to Israel now?" His answer was: "The exact time it is not yours to know. The Father has reserved that to himself. You will receive power when the Holy Spirit comes down on you; then you are to be my witnesses in Jerusalem, throughout Judea and Samaria, yes, even to the ends of the earth." No sooner has he said this than he was lifted up before their eyes in a cloud which took him from their sight.
They were still gazing up into the heavens when two men dressed in white stood beside them. "Men of Galilee," they said, "why do you stand here looking up at the skies? This Jesus who has been taken from you will return, just as you saw him go up into the heavens."
After that they returned to Jerusalem from the Mount of Olives near Jerusalem.
Gospel
Luke 24: 36-53
At that time, after his resurrection, Jesus stood in the midst of his disciples and she to them: "Peace to you!" In their panic and fright they thought they were seeing a ghost. He said to them, "Why are you disturbed? Why do such ideas cross your mind? Look at my hands and my feet; it is really I. Touch me, and see that a ghost does not have flesh and bones as I do." As he said this he showed them his hands and feet. They were still incredulous for sheer joy and wonder, so he said to them, "Have you anything here to eat?" They gave him a piece of cooked fish, which he took and ate in their presence. Then he said to them, "Recall those words I spoke to you when I was still with you: everything written about me in the law of Moses and the prophets and psalms had to be fulfilled." Then he opened their minds to the understanding of Scriptures.
He said to them: Thus it is written that the Messiah must suffer and rise from the dead on the third day. In his name, penance for the remission of sins is to be preached to all the nations, beginning at Jerusalem. You are witnesses of this. See, I send down upon you the promise of my Father. Remain here in the city until you are clothed with power from on high."
Then he led them out near Bethany, and with hands upraised, blessed them. As he blessed, he left them, and was taken up to heaven. They fell down to do him reverence, then returned to Jerusalem filled with joy. There they were to be fund in the temple constantly, speaking the praises of God.
Icon courtesy of Jack Figel, Eastern Christian Publications – ecpubs.com
Wednesday, May 25 –