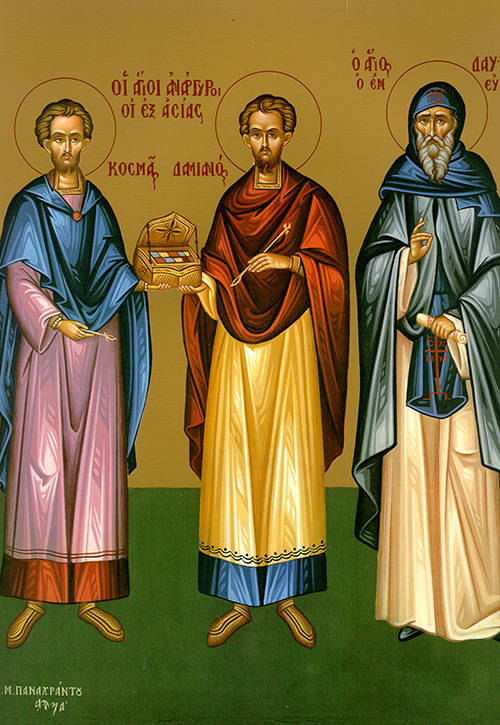 The holy wonder-workers and Unmercenary Physicians Cosmas and Damian and their mother, St. Theodota, were natives of Asia Minor (some sources say Mesopotamia). Their pagan father died while they were still quite small children. Their mother raised them in Christian piety. Through her own example, and by reading holy books to them, St. Theodota preserved her children in purity of life according to the commands of the Lord, and Cosmas and Damian grew up into righteous and virtuous men. Trained and skilled as physicians, they received from the Holy Spirit the gift of healing people's illnesses of body and soul by the power of prayer. They even treated animals. With fervent love for both God and neighbor, they never took payment for their services. They strictly observed the command of our Lord Jesus Christ, "Freely have you received, freely give."(Mt. 10:8). The fame of Saints Cosmas and Damian spread throughout the surrounding region, and people called them unmercenary physicians.
Troparion
Holy unmercenary healers and wonderworkers, Cosmas and Damian, treat us in our weakness; freely you received, so freely give to us.
Kontakion
O most glorious physicians and wonderworkers who have received the grace of healing, you grant health to those in need. By your visitation, defeat our shameless enemies and by your miracles heal the world.
Epistle
Colossians 2:20 – 3:3
Brothers and sisters: If with Christ you have died to cosmic forces, why should you be bound by rules that say, "Do not handle! Do not taste! Do not touch!" as though you were still living a life bounded by this world? Such prescriptions deal with things that perish in their use. They are based on merely human precepts and doctrines. While these make a certain show of wisdom in their affected piety, humility, and bodily austerity, their chief effect is that they indulge men's pride.
Since you have been raised up in company with Christ, set your heart on what pertains to higher realms where Christ is seated at God's right hand. Be intent on things above rather than on things of earth. After all, you have died! Your life is hidden now with Christ in God.
Gospel
Luke 11: 34-41
The Lord said, "The eye is the lamp of your body. When your eyesight is sound, your whole body is lighted up, but when your eyesight is bad, your body is in darkness. Take care, then, that your light is not darkness. If your whole body is lighted up and partly in darkness, it will be as fully illumined as when a lamp shines brightly for you."
As he was speaking, a Pharisee invited him to dine at his house. Jesus entered and reclined at table. Seeing this, the Pharisee was surprised that Jesus had not first performed the ablutions prescribed before eating. The Lord said to him: "You Pharisees! You cleanse the outside of the cup and dish, but within you are filled with rapaciousness and evil. Fools! Did not he who made the outside make the inside too? But if you give what you have as alms, all will be wiped clean for you."
Icon courtesy of Jack Figel, Eastern Christian Publications – ecpubs.com
Monday, October 31 –