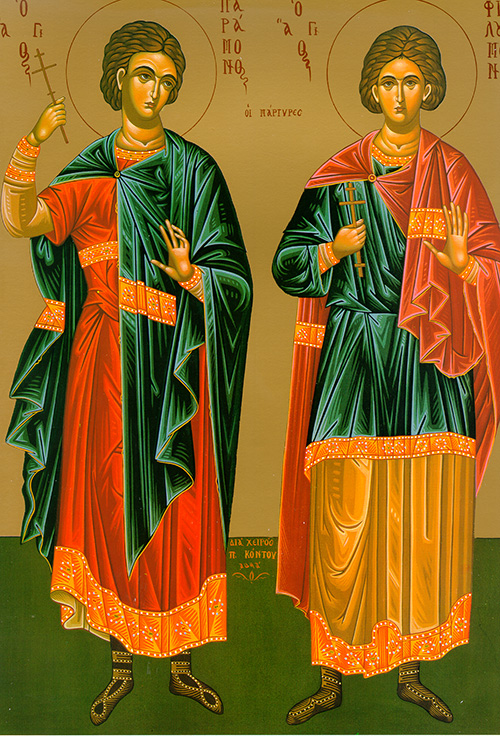 The holy martyr Paramon was martyred in Bithynia in Asia Minor along with 370 other Christians during the persecution of the governor Aquilinus in the year 250.
The holy martyr Philemon was martyred at Ancyra in Galatia. It is said that in the persecution of Aurlian the emperor Philemon was taken to the fire. Then his feet and head were pierced with nails leading to his martyrdom.
Our venerable father Acacius, mentioned in "The Ladder", was a novice living under an evil Elder. Through all of the abuse the Elder gave, Acacius was patiently trusting that the Lord would bring good out of evil. He died an early death and testified from the grave against the elder, who repented.
Troparion
Your martyrs, O Lord our God, in their struggle received incorruptible crowns from You. With Your strength, they brought down the tyrants and broke the cowardly valor of demons. Through their prayers, O Christ our God, save our souls.
Kontakion
You washed your soul clean from all impurity by following the divine mandates. This is how you endured your martyrdom. You refused to offer sacrifice to any idols; therefore, they pierced you with a spear. This is how you followed Christ. O all-blessed Paramon, pray for the world.
Epistle
1 Timothy 1: 8-14
Timothy, my son, we know that the law is good, provided one uses it in the ways law is supposed to be used – that is, with the understanding that it is aimed, not at good men but at the lawless and unruly, the irreligious and the sinful, the wicked and the godless, men who kill their fathers or mothers, murderers, fornicators, sexual perverts, kidnappers, liars, perjurers, and those who in othere ways flout the sound teaching that pertains to the glorious gospel of God–blessed be he–with which I have been entrusted.
I thank Christ Jesus our Lord, who has strengthened me, that he has made me his servant and judged me faithful. I was once a blasphemer, a persecutor, a man filled with arrogance; but because I did not know what I was doing in my unbelief, I have been treated mercifully, and the grace of our Lord has been granted me in overflowing measure, along with the faith and love which are in Christ Jesus.
Gospel
Luke 19: 45-48
At that time Jesus entered the temple and began ejecting the traders saying: "Scripture has it, 'My house is meant for a house of prayer' but you have made it 'a den of thieves.'" He was teaching in the temple area from day to day. The chief priests and scribes meanwhile were looking for a way to destroy him, as were the leaders of the people, but they had no idea how to achieve it, for indeed the entire populace was listening to him and hanging on his words.
Icon courtesy of Jack Figel, Eastern Christian Publications – ecpubs.com
Monday, November 28 –