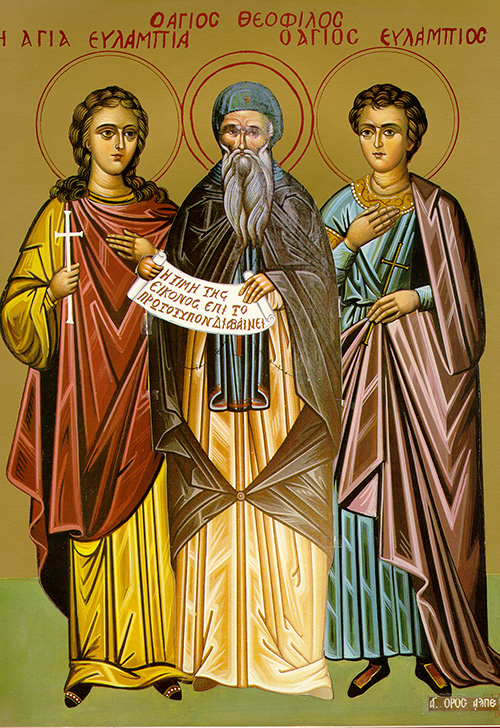 Saints Eulampius and Eulampia were brother and sister. They lived at the beginning of the 4th century in the city of Nicomedia. Eulampius became upset after reading the decree of the emperor Maximian (284-305) sentencing all Christians to execution. Eulampius was horrified that the emperor was taking up arms against his own subjects rather than fighting the enemies of his country. The youth was brought to trial and commanded to renounce the Christian Faith. His sister, Eulampia, appeared before the judges and declared that she also was a Christian. The martyrs were tortured and thrown into a red-hot furnace, but the Lord protected them from the fire. Finally, they beheaded Eulampius, but Eulampia died from her torments before she could be beheaded.
Troparion
You martyrs, O Lord our God, in their struggles received an incorruptible crown from You. With your strength, they brought down the tyrants and broke the cowardly valor of demons. Through their prayers, O Christ our God, save our souls.
Kontakion
Let us honor the wise Eulampius and Eulampia, fearless martyrs. They were brother and sister in the flesh. THrough the power of the crucified Christ, they put to shame their persecutors guile, and they together became the glory and praise of martyrs.
Epistle
Philippians 1: 1-7
Paul and Timothy, servants of Christ Jesus, to all the holy ones at Philippi, with their bishops and deacons in Christ Jesus. Grace and peace be yours from God our Father and from the Lord Jesus Christ!
I give thanks to my God every time I think of you–which is constantly, in every prayer I utter–rejoicing, as I plead on your behalf, at the way you have all continually helped promote the gospel from the very first day.
I am sure of this much: that he who has begun the good work in you will carry it through to completion, right up to the day of Christ Jesus. It is only right that I should entertain such expectations in your regard since I hold all of you dear–you who, to a man, are sharers of my gracious lot when I lie in prison or am summoned to defend the solid grounds on which the gospel rests.
Gospel
Luke 7: 36-50
At that time there was a certain Pharisee who invited Jesus to dine with him. Jesus went to the Pharisee's home and reclined to eat. A woman known in the town to be a sinner learned that he was dining in the Pharisee's home. She brought in a vase of perfumed oil and stood behind him at his feet, weeping so that her tears fell upon his feet. Then she wiped them with her hair, kissing them and perfuming them with the oil. When his host, the Pharisee, saw this, he said to himself, "If this man were a prophet he would know who and what sort of woman this is that touched him–that she is a sinner." In answer to his thoughts, Jesus said to him, "Simon, I have something to propose to you." "Teacher," he said, "speak."
Jesus said, "Two men owed money to a certain money-lender; one owed a total of five hundred coins, the other fifty. Since neither was able to repay, he wrote off both debts. Which of them was more grateful to him?" Simon answered, "He, I presume, to whom he remitted the larger sum." Jesus said to him, "You are right."
Turning then to the woman, Jesus said to Simon: "You see this woman? I came to your home and you provided me with no water for my feet. She has washed my feet with her tears and wiped them with her hair. You gave me no kiss, but she has not ceased kissing my feet since I entered. You did not anoint my feet with perfume. I tell you, that is why her many sins are forgiven–because of her great love. Little is forgiven the one whose love is small."
Jesus said to her then, "Your sins are forgiven"; at which his fellow guests began to ask among themselves, "Who is this that he even forgives sins?" Meanwhile Jesus said to the woman, "Your faith has been your salvation. Now go in peace."
Icon courtesy of Jack Figel, Eastern Christian Publications – ecpubs.com
Sunday, October 9 –