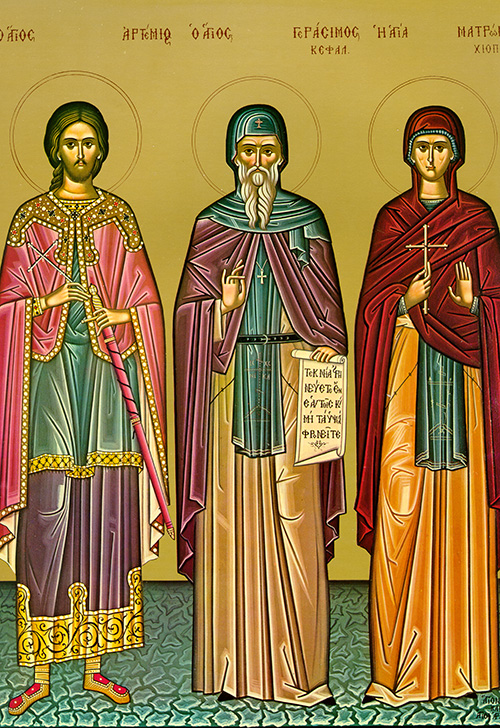 The holy great martyr Artemius was Egyptian by birth. He was the commander-in-chief of the army of the emperor St. Constantine the Great. When the cross of the Lord appeared in the sky to the emperor, Artemius also saw it and came to faith. He was eventually appointed governor in Egypt. During the reign of the emperor Julian the Apostate, he was stripped of his rank and thrown into prison. The emperor had him cruelly killed in the year 392.
Troparion
Preserved in Christ by true belief, O passion-bearer, you overcame the tyrant king and his idol offerings. Because you rebuked that king, the Great King granted you a shining crown of victory and wondrous miracles of healing with which you cure all those who have recourse to you: O Artemius, pray to Christ our God to save our souls.
Kontakion
Let us gather to sing worthy hymns in honor of Artemius, the pious and crown-bearing martyr who defeated his enemies: for he is great among the martyrs and generous in performing miracles, and prays to the Lord for all of us.
Epistle
Philippians 3: 1-8
Brothers and sisters: For the rest, rejoice in the Lord. I find writing you these things no burden, and for you it is a safeguard.
Beware of unbelieving dogs. Watch out for workers of evil. Be on guard against those who mutilate. It is we who are the circumcision, who worship in the spirit of God and glory in Christ Jesus rather than putting our trust in the flesh – though I can be confident even there. If anyone thinks he has a right to put his trust in external evidence, all the more can I! I was circumcised on the eighth day, being of the stock of Israel and the tribe of Benjamin, a Hebrew of Hebrew origins; in legal observance I was a Pharisee, and so zealous that I persecuted the church. I was above reproach when it came to justice based on the law.
But those things I used to consider gain have now reappraised as loss in the light of Christ. I have come to rate all as loss in the light of the surpassing knowledge of my Lord Jesus Christ. For his sake I have forfeited everything; I have accounted all else rubbish so that Christ may be my wealth.
Gospel
Luke 9: 49-56
At that time it was the disciple John who said, "Master, we saw a man using your name to expel demons, and we tried to stop him because he is not of our company." Jesus told him in reply, "Do not stop him, for any man who is not against you is on your side."
As the time approached when Jesus was to be taken from this world, he firmly resolved to proceed toward Jerusalem, and sent messengers on ahead of him. These entered a Samaritan town to prepare for his passing through, but the Samaritans would not welcome him because he was on his way to Jerusalem. When his disciples James and John saw this, they said, "Lord, would you not have us call down fire from heaven and destroy them?" He turned toward them only to reprimand them. Then they set off for another town.
Icon courtesy of Jack Figel, Eastern Christian Publications – ecpubs.com
Wednesday, October 19 –