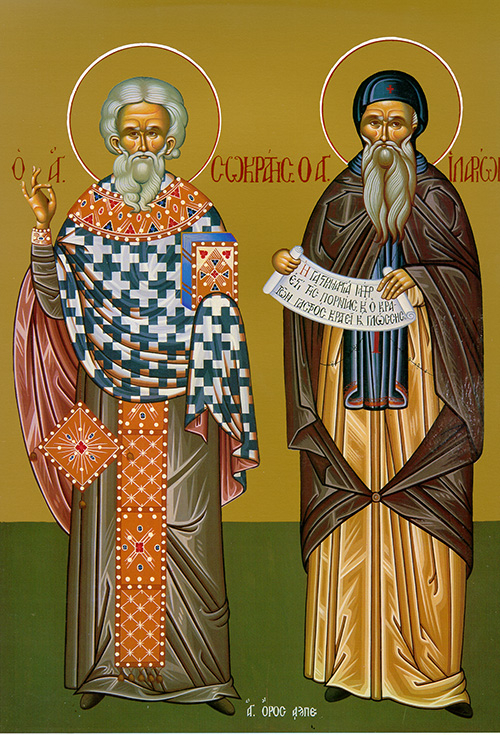 Our venerable father Hilarion the Great followed in the footsteps of St. Anthony , first leading a solitary life near Gaza. Then in this province of Cyprus, he was an outstanding founder and example of eremitical life. He fell asleep in the Lord in the year 372.
Troparion
Your abundant tears made the wilderness sprout and bloom, and your deep sigh made your labor fruitful a hundredfold. You became a star shining over the world with miracles, holy father Hilarion. Pray to Christ our God that He may save our souls.
Kontakion
We gather today to sing hymns in your honor, O brilliant star who make shine the grace of God in our hearts. You were a Light to those in darkness and lifted up to heaven those who cry out, "Joy to you, Hilarion, model of hermits!"
Epistle
Philippians 3: 8-19
Brothers and sisters: I have come to rate all as loss in the light of the surpassing knowledge of my Lord Jesus Christ. For his sake I have forfeited everything; I have accounted all else rubbish so that Christ may be my wealth and I may be in him, not having any justice of my own based on observance of the law. The justice I possess is that which comes through faith in Christ. It has its origin in God and is based on faith. I wish to know Christ and the power flowing from his resurrection; likewise to know how to share in his sufferings by being formed into the pattern of his death. Thus I do hope that I may arrive at resurrection from the dead.
It is not that I have reached it yet, or have already finished my course; but I am racing to grasp the prize if possible, since I have been grasped by Christ [Jesus]. Brethren, I do not think of myself as having reached the finish line. I give no thought to what lies behind but push on to what is ahead. My entire attention is on the finish line as I run toward the prize to which God calls me – life on high in Jesus Christ. All of us who are spiritually mature must have this attitude. If you see it another way, God will clarify the difficulty for you. It is important that we continue on our course, no matter what stage we have reached.
Be imitators of me, my brethren. Take as your guide those who follow the example that we set. Unfortunately, many go about in a way which shows them to be enemies of the cross of Christ. I have often said this to you before; this time I say it with tears. Such as these will end in disaster! Their god is their belly and their glory is in their shame. I am talking about those who are set upon the things of this world.
Gospel
Luke 10: 1-15
At that time the Lord appointed a further seventy-two and sent them in pairs before him to every town and place he intended to visit. He said to them: "The harvest is rich but the workers are few; therefore, ask the harvest-master to send workers to his harvest. Be on your way, and remember: I am sending you as lambs in the midst of wolves. Do not carry a walking staff or traveling bag; wear no sandals and greet no one along the way. On entering any house, first say, 'Peace to this house.' If there is a peaceable man there, your peace will rest on him; if not, it will come back to you. Stay in the one house eating and drinking what they have, for the laborer is worth his wage. Do not move from house to house.
"Into whatever city you go, after they welcome you, eat what they set before you, and cure the sick there. Say to them, 'The reign of God is at hand.' If the people of any town you enter do not welcome you, go into its streets and say, 'We shake the dust of this town from our feet as testimony against you. But know that the reign of God is near.' I assure you, on that day the fate of Sodom will be less severe than that of such a town. It will go ill with you, Chorazin! And just as ill with you, Bethsaida! If the miracles worked in your midst had occurred in Tyre and Sidon, they would long ago have reformed in sackcloth and ashes. It will go easier on the day of judgment for Tyre and Sidon than for you. And as for you, Capernaum, 'Are you to be exalted to the skies? You shall be hurled down to the realm of death!'"
Icon courtesy of Jack Figel, Eastern Christian Publications – ecpubs.com
Thursday, October 20 –