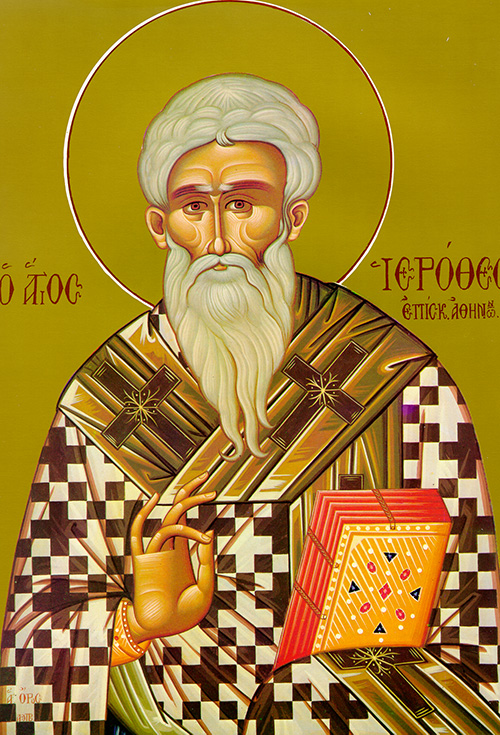 The holy martyr Hierotheus was a friend of St. Dionysius (Denis) the Areopagite. Hierotheus was converted by the Apostle Paul shortly after his friend. Paul later made him bishop of Athens. Tradition tells us that Hierotheus assembled in Jerusalem with the Apostles for the Dormition of the Theotokos. He was martyred in Athens.
Our venerable father Francis of Assisi was a deacon and founder of the Three Orders. He was converted after an unfettered youth in Assisi in Umbria. He chose an evangelical life, serving Jesus Christ found among the poorest and most neglected. Having made himself a poor man, he gathered himself little brothers (i.e., the Friars Minor) in a community. He preached the love of God to everyone, in a journey that reached as far as the Holy Land. Seeking to be a perfect follower of Christ in words and deeds, he wished to travel the needy earth carrying the good news.
Troparion
You learned goodness and practiced temperance. You robed yourself in the priesthood and girded yourself with good conscience. Therefore, you came to draw ineffable things from the chosen vessel, Paul. You have completed the race, you have kept the faith. O father Hierotheus, beg Christ our God to save our souls.
Kontakion
We honor you, O bishop of Athens, for we have learned marvelous and ineffable mysteries from you. You are an author of divine hymns. Intercede that we may be delivered from our sins; O most venerable Hierotheus, we cry out: Rejoice, O holy and most wise father.
Epistle
Ephesians 5: 20-26
Brothers and sisters: Give thanks to God the Father always and for everything in the name of our Lord Jesus Christ. Defer to one another out of reverence for Christ. Wives should be submissive to their husbands as id to the Lord because the husband is head of his wife just as Christ is head of his body the church, as well as its savior. As the church submits to Christ, so wives should submit to their husbands in everything. Husbands, love your wives, as Christ loved the church. He gave himself up for her to make her holy, purifying her in the bath of water by the power of the word.
Gospel
Luke 6: 37-45
The Lord said, "Do not judge, and you will not be judged. Do not condemn, and you will not be condemned. Pardon, and you shall be pardoned. Give, and it shall be given to you. Good measure pressed down, shaken together, running over, will they pour into the fold of your garment. For the measure you measure with will be measured back to you."
Jesus also used images in speaking to them: "Can a blind man act as guide to a blind man? Will they not both fall into a ditch? A student is not above his teacher; but every student when he has finished his studies will be on a par with his teacher.
"Why look at the speck in your brother's eye when you miss the plank in your own? How can you say to your brother, 'Brother, let me remove the speck from your eye,' yet fail yourself to see the plank lodged in your own? Hypocrite, remove the plank from your own eye first; then you will see clearly enough to remove the speck from your brother's eye.
"A good tree does not produce decayed fruit any more than a decayed tree produces good fruit. Each tree is known by its yield. Figs are not taken from thornbushes, nor grapes picked from brambles. A good man produces goodness from the good in his heart; an evil man produces evil out of his store of evil. Each man speaks from his heart's abundance."
Icon courtesy of Jack Figel, Eastern Christian Publications – ecpubs.com
Monday, October 3 –