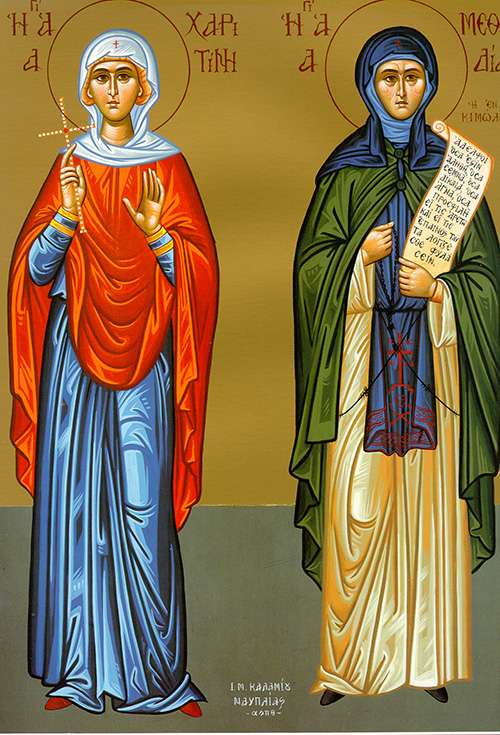 The holy martyr Charitina was a young girl who was brought before a governor of the emperor Diocletian in the year 304. She boldly testified, "It is true that I am a Christian, and a lie that I delude others. O lead those in error to the way of truth, bringing them to my Christ." She endured many awful tortures for the sake of her Lord, and died in the glory of His name.
Troparion
Your lamb Charitina, O Jesus, cries out in a loud voice: I love You, my Bridegroom; I seek You with painful longing; I am crucified with You; in Your baptism, I am buried with You; I suffer for You that I may reign with You; and I die for You that I may live with You. Receive me as a spotless sacrifice immolated with love for You. By her prayers, O merciful One, save our souls.
Kontakion
You shamed the violent enemy with the might of your understanding, O Charitina, after you had strengthened your soul with faith. O all-blessed lady, you went into the presence of Christ wearing a gown dyed red in your blood. Now that you stand in the company of angels, pray for us, O Passion-bearer.
Epistle
Ephesians 5: 25-33
Brothers and sisters: Love your wives, as Christ loved the church. He gave himself up for her to make her holy, purifying her in the bath of water by the power of the word, to present to himself a glorious church, holy and immaculate, without stain or wrinkle or anything of that sort. Husbands should love their wives as they do their own bodies. He who loves his wife loves himself. Observe that no one ever hates his own flesh; no, he nourishes it and takes care of it as Christ cares for the church–for we are members of his body. [Scripture says:] "For this reason a man shall leave his father and mother, and shall cling to his wife; and the two shall be made into one." This is a great foreshadowing; I mean that it refers to Christ and the Church. In any case, each one should love his wife as he loves himself, the wife for her part showing respect for her husband.
Gospel
Luke 6:47 – 7:1
The Lord said, "Why do you call me 'Lord, Lord,' and not put into practice what I teach you? Any man who desires to come to me will hear my words and put them into practice. I will show you with whom he is to be compared. He may be likened to the man who, in building a house, dug deeply and laid the foundation on a rock. When the floods came the torrent rushed in on that house, but failed to shake it because of its solid foundation. On the other hand, anyone who has heard my words but not put them into practice is like the man who built his house on the ground without any foundation. When the torrent rushed upon it, it immediately fell in and was completely destroyed." When he had finished this discourse in the hearing of the people, he entered Capernaum.
Icon courtesy of Jack Figel, Eastern Christian Publications – ecpubs.com
Tuesday, October 4 –