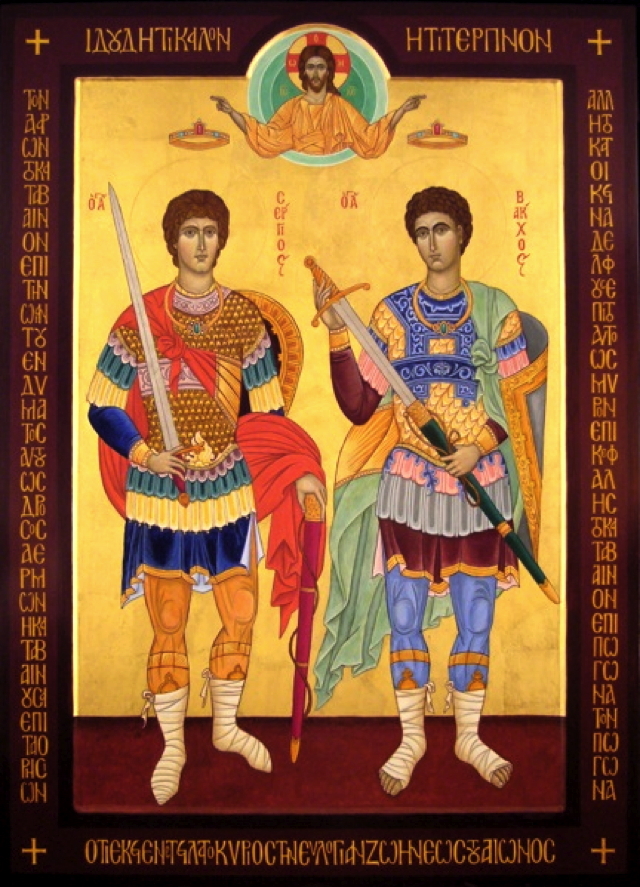 The holy martyrs Sergius and Bacchus were nobles of the court of the emperor Maximian. The emperor valued them for their courage, wisdom, and zeal. When they refused to offer sacrifice to pagan Gods, the emperor turned against them, dressing them in women's clothing and paraded them through the city of Rome. They were sent to Syria to be tortured. Bacchus died first, and came back from the dead to urge Sergius to fidelity. He was then martyred.
Troparion
Your martyrs, O Lord our God, in their struggle received incorruptible crowns from You. Armed with Your strength, they brought down the tyrants and broke the cowardly valor of demons. Through their prayers, O Christ our God, save our souls.
Kontakion
O long-suffering Sergius and glorious Bacchus, you are the staunch support of those who are Christ's passion-bearers. O eyes of the Church of Christ, enlighten the eyes of our souls. Now pray to the Lord that we might escape the darkness of sin, and that we come to see the unsetting Sun through your prayers, O saints.
Epistle
Ephesians 6: 18-24
Brothers and sisters: At every opportunity pray in the Spirit, using prayers and petition of every sort. Pray constantly and attentively for all in the holy company. Pray for me that God may put his words on my lips, that I may courageously make known the mystery of the gospel–that mystery for which I am an ambassador in chains. Pray that I may have courage to proclaim it as I ought.
Tychicus, my dear brother and faithful minister in the Lord, will keep you informed as to how I am and what I am doing. I have sent him to you for the very purpose of giving you news about me for your hearts' consolation.
May God the Father and the Lord Jesus Christ grant the brothers peace and love and faith. Grace be with all who love our Lord Jesus Christ with unfailing love.
Gospel
Luke 7: 31-35
The Lord said, "What comparison can I use for the men of today? What are they like? They are like children squatting in the city squares and calling to their playmates, 'We piped you a tune but you did not dance, we sang you a dirge but you did not wail.'
"I mean that John the Baptizer came neither eating bread nor drinking wine, and you say, 'He is mad!' The Son of Man came and he both ate and drank, and you say, "Here is a glutton and a drunkard, a friend of tax collectors and sinners!' God's wisdom is vindicated by all who accept it."
Icon courtesy of Jack Figel, Eastern Christian Publications – ecpubs.com
Thursday, October 6 –