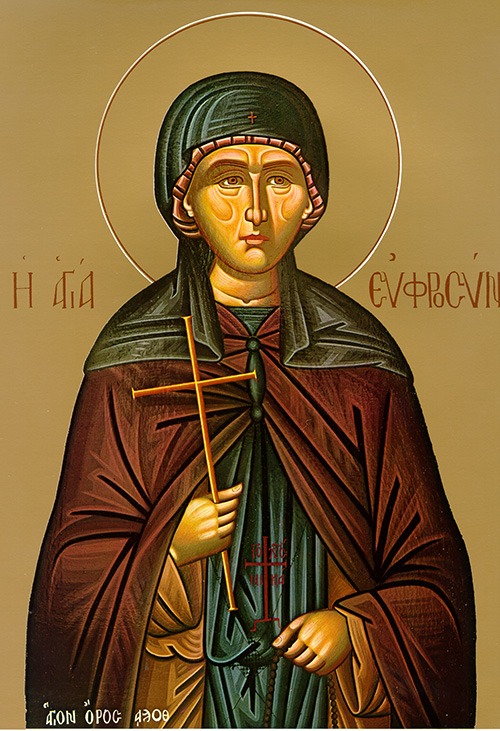 Our venerable mother Euphrosyna was born to parents long childless, who brought her up in the Christian faith. She presented herself, in man's clothing, to the abbot of a local monastery, who admitted her and placed her in the spiritual care of the monk Agapetus. After thirty-eight years of living the monastic life, her father visited the monastery. Just before her death, she identified herself to him. She fell asleep in the Lord and was buried in the monastery in the year 479.
Troparion
In you, O mother, the divine image was strictly preserved; taking up your cross, you followed Christ. You taught us by example how to spurn the flesh, for it passes away, and how to care for the soul, which is immortal. Therefore, O venerable Euphrosyna, your soul rejoices with the angels.
Kontakion
When you longed for life in the highest, you turned away from the longest delight of the world. You put on the clothing of a man, all beautiful one, and abandoned your earthly betrothed for Christ your Bridegroom before the time.
Epistle
2 Corinthians 6: 1-10
Brothers and sisters: As your fellow workers we beg you not to receive the grace from God in vain. For he says, "In an acceptable time I have heard you; on a day of salvation I have helped you." Now is the acceptable time! Now is the day of salvation! We avoid giving anyone offense, so that our ministry may not be blamed. On the contrary, in all that we do we strive to present ourselves as ministers of God, acting with patient endurance amid trials, difficulties, distresses, beatings, imprisonments, and riots; as men familiar with hard work, sleepless nights, and fastings; conducting ourselves with innocence, knowledge, and patience, in the Holy Spirit, in sincere love as men with the message of truth and the power of God; wielding the weapons of righteousness with right hand and left, whether honored or dishonored; spoken of well or ill. We are called imposters, yet we are truthful; nobodies who in fact are well known; dead, yet here we are alive; punished, but not put to death; sorrowful, though we are always rejoicing; poor, yet we enrich many. We seem to have nothing, yet everything is ours!
Gospel
Luke 5: 1-11
At that time as Jesus stood by the Lake of Gennesaret, and the crowd pressed in on him to hear the word of God, he saw two boats moored by the side of the lake; the fisherman had disembarked and were washing their nets. He got into one of the boats, the other belonging to Simon, and asked him to pull out a short distance from the shore; then, remaining seated, he continued to teach the crowds from the boat. When he had finished speaking he said to Simon, "Put out into deep water and lower your net for a catch." Simon answered, "Master, we have been hard at work all night long and have caught nothing; but if you say so, I will lower the nets." Upon doing this they caught such a great number of fish that their nets were at the breaking point. They signaled to their mates in the other boat to come and help them. These came, and together they filled the two boats until they nearly sank.
At the sight of this, Simon Peter fell at the knees of Jesus saying, "Leave me, Lord. I am a sinful man." For indeed, amazement at the catch they had made seized him and all his shipmates, as well as James and John, the sons of Zebedee, who were partners with Simon. Jesus said to Simon, "So not be afraid. From now on you will be catching men." With that they brought their boats to land, left everything, and became his followers.
Icon courtesy of Jack Figel, Eastern Christian Publications – ecpubs.com
Saturday, September 24 –