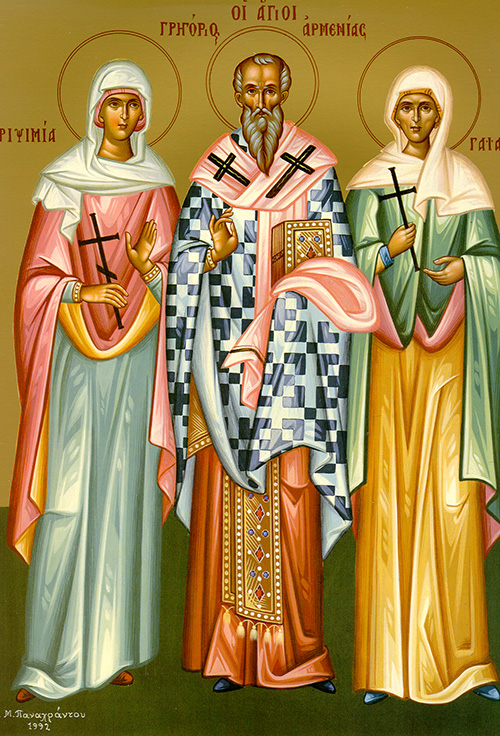 The holy martyr Gregory, bishop of Armenia, who after many labors withdrew into a cave near the confluence of tributaries of the Euphrates and there rested in peace in 332. He is called "the Illuminator" and is considered the apostle to the Armenians.
Troparion
Today we faithful are invited to sign a hymn, to exalt with love in our assembly the daystar of the Unsetting Light, the long-suffering shepherd, the truly heroic pastor, the model of ascetics and martyrs, the radiant glory of the Church of Armenia. Let us bless with hymns of praise the divinely inspired Gregory who is adorned with the martyr's crown.
Kontakion
O faithful, let us extol today with hymns and spiritual songs the glorious Priest-Martyr Gregory, the shepherd of souls and powerful teacher, the bright star and fighter for truth. He intercedes with Christ our God for the salvation of our souls.
Epistle
Ephesians 4: 17-25
Brothers and sisters: I declare and solemnly attest in the Lord that you must no longer live as the pagans do–their minds empty, their understanding darkened. They are estranged from a life in God because of their ignorance and their resistance; without remorse they have abandoned themselves to lust and the indulgence of every sort of lewd conduct. That is not what you learned when you learned Christ! I am supposing, of course, that he has been preached and taught to you in accord with the truth that is in Jesus: namely, that you must lay aside your former way of life and the old self which deteriorates through the illusion and desire, and acquire a fresh, spiritual way of thinking. You must put on that new man created in God's image, whose justice and holiness are born of truth. See to it, then, that you put an end to lying; let everyone speak the truth to his neighbor, for we are members of one another.
Gospel
Luke 6: 17-23
At that time coming down the mountain with them, Jesus stopped at a level stretch where there were many of his disciples; a large crowd of people was with them from all Judea and Jerusalem and the coast of Tyre and Sidon, people who came to hear him and be healed of their diseases. Those who were troubled with unclean spirits were cured; indeed, the whole crowd was trying to touch him because power went out from him which cured all. Then, raising his eyes to his disciples, he said: "Blest are you poor, the reign of God is yours. Blest are you who hunger; you shall be filled. Blest are you who are weeping; you shall laugh. Blest shall you be when men hate you, when they ostracize you and insult you and proscribe your name as evil because of the Son of Man. On the day they do so, rejoice and exult, for your reward shall be great in heaven."
Icon courtesy of Jack Figel, Eastern Christian Publications – ecpubs.com
Thursday, September 29 –